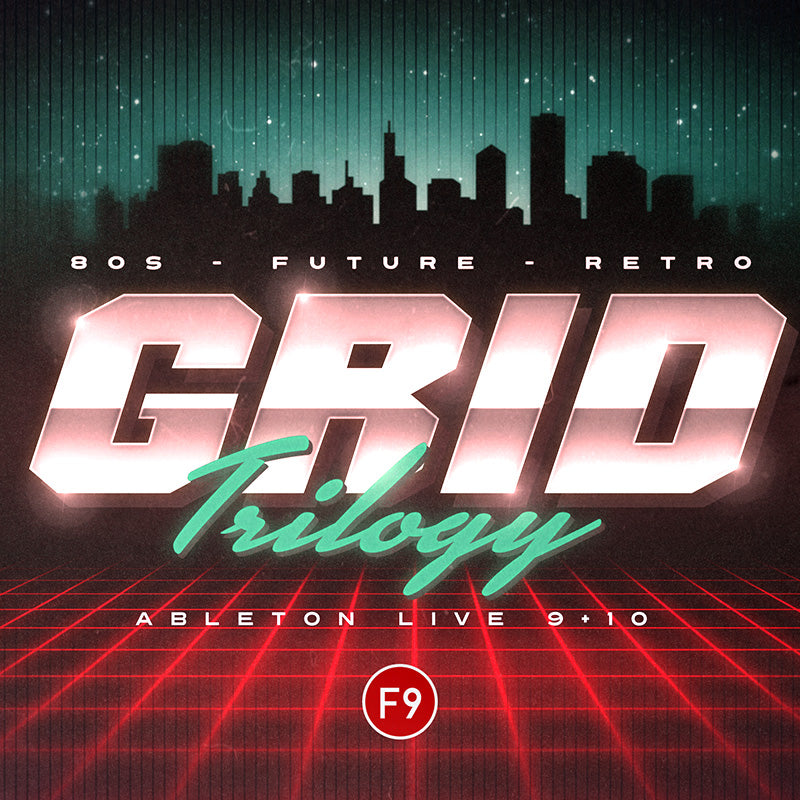 F9 Grid Trilogy 80s Future Retro - For Ableton Live 9,10 & 11
CHOOSE YOUR FORMAT CAREFULLY
> All F9 digital products can be downloaded instantly after purchase
---
80s Sounds for the 21st Century.. 
7 fully working Ableton Projects (everything from the audio demos)

10 Ableton Project startup pages pre-loaded with sounds 

Fully compatible with Live 9.5, 10, 11 & 12 (Std or Suite) 

201 Ableton Racks with full macros

450+ Pre-warped loops (Deluxe Only) 

8 Full Ableton Drumtrax Projects (Deluxe only) 
The sonic signature of the 80s has never been so important in modern productions. Retro-flavored TV shows, movies, and the natural 30-year cycle of musical fashion has mixed with potent nostalgia and brought an entire generation of synthetic and low-bit sampled sounds back to the fore. 
The only way to get the authentic sound of the decade that changed how music was made forever is to sample the actual devices used at the time, via the high-end analogue hardware used to record the classic records that punctuate the decade that bought us the analogue monster polysynths, the drum machines and the early 8 and 12 bit samplers. 
The F9 Grid Trilogy is a serious remix of our original F9 releases: Grid V1.0,  Grid V2.0 and Grid V3 with an enormous amount of new multi-sampled content, drum sounds and pro-level templates. We have progressed enormously as a company since our 1st sample pack releases and this immensely powerful new release harnesses the technologies and techniques we know our customers love in releases such as the F9 Ableton Toolkit. 

This release has been months in the making and we were still adding patches right up until the final testing stages. We feel it is the most flexible and powerful 80's themed release currently available for Ableton Live at this price point. 
This one for me is once again a hugely personal F9 release - I grew up immersed in the Pop, Indie and Movie music of the 1980s and the technology surrounding its creation has always held an amazing fascination for me. Due to a random moment whilst at my local theatre as a child the very first synth I ever touched and played on was a Jupiter 8. That moment shaped my entire professional life as the mixture of art, technology, and seemingly limitless possibilities is an emotion I've carried with me ever since I first tweaked and Filter cut-off control. 
Sonically we have considered one aesthetic during the development process: Future Retro. Too many retro packs have a deliberate Lofi edge burnt into the audio that cannot be undone. The sounds, vibe, and flexibility of this release will fit into any contemporary production. If you still want a Lofi edge the authenticity of the sound sources ( see equip list below ) ensures that they respond perfectly to Post-processing. 
Not only do we provide you with the sounds, but we show you exactly how to use them with the featured Ableton projects (both versions).

We hope you love this release as much as we did making it - James Wiltshire, F9 Audio 
All versions: 
6Gb Core Library : 
▪ 19 Drum + percussion Menus
▪ 27 Pad and Synth string Racks
▪ 8 FX + Synth Shot menu racks
▪ 3 Layered drum designers racks
▪ Exclusive Eprom burnt 8bit drum sounds
▪ Round Robin Bass patches
▪ Everything sampled from original 80s Hardware. 
Additional Deluxe Content: 
Original Hardware used in the creation of this pack:
Jupiter 8, Oberheim OBX-A, Roland Dimension D, Yamaha 
 DX7, TX7, TX81Z, TX816, and the ultra-rare FSR-1. Jupiter 8, Juno 60 and 106,  JX-10 Super Jupiter and MKS 70/8 0, SH101 and Jupiter 4. Sequential Pro-One and Prophet VS, Roland TR 808,  Ensoniq SQ 80, Korg DW8, Linn LM1, Yamaha RX5, Oberheim DX, Neve 1081, Neve 33135, SSL Xrack EQ and Compression, GML 8900, 8200, 
This pack requires Ableton Live 9.5+  including Live 10, Live 11 & 12 (Standard or Suite editions). This product will not work with Live Lite.
Download the product manual to see the entire patch list
HERE
PREVIOUS GRID customers ( including Loopmasters purchases ). Please contact us for discounts and upgrades by clicking
HERE
. 

If you are registered to the F9 Mailing list please check your Emails for personal discounts. 
All audio demos are

 100% F9 Grid Trilogy 

- Only 1 instance of Acustica audio's El Ray compressor + 1 instance of Ozone 8 has been used for mastering purposes.
Compatibility List:
Compatible with Ableton 9.5 Onwards (Standard or Suite)

Compatible with Ableton 10 Onwards (Standard or Suite)

Compatible with Ableton 11 Onwards (Standard or Suite)

 

Compatible with Ableton 12.
---
Legal :
Logic Pro, Smart Controls, Apple Loops, EXS24, and Apple Silicon are trademarks of Apple Inc.
Ableton, Live Pack, and Live Racks are trademarks of Ableton AG.
Kontakt, Maschine, Komplete Kontrol, and Native Access are registered trademarks of Native Instruments GMBH. Steinberg,
Cubase, HALion, Halion Sonic SE, and VST are trademarks of Steinberg Media Technologies GmbH.
Bitwig is a trademark of Bitwig GmbH.
AKAI, MPC & Qlink are trademarks of Inmusic Brands Inc.
These trademarks are mentioned exclusively to identify compatibility with the respective companies' music production software and functionalities.
F9 Audio Ltd does not claim any affiliation or endorsement from Apple Inc, Steinberg Media Technologies GmbH, Native Instruments GMBH, Ableton AG, Bitwig GmbH, or Inmusic Brands Inc. The trademarks of these respective companies are used solely for the purpose of identifying compatibility with their music creation software.
References to other hardware devices or sub-brands on this page, including instruments and registered trademarks, are provided for descriptive purposes only. For instance, when referring to instrument brands and their associated trademarks, the intention is to describe the sound or instrument used in creating a specific sound or patch. F9 Audio Ltd does not maintain, nor does it claim, any association with or endorsement by these brands. Any goodwill connected to these brands lies with the brand owner.
To see this product's license agreement, click HERE