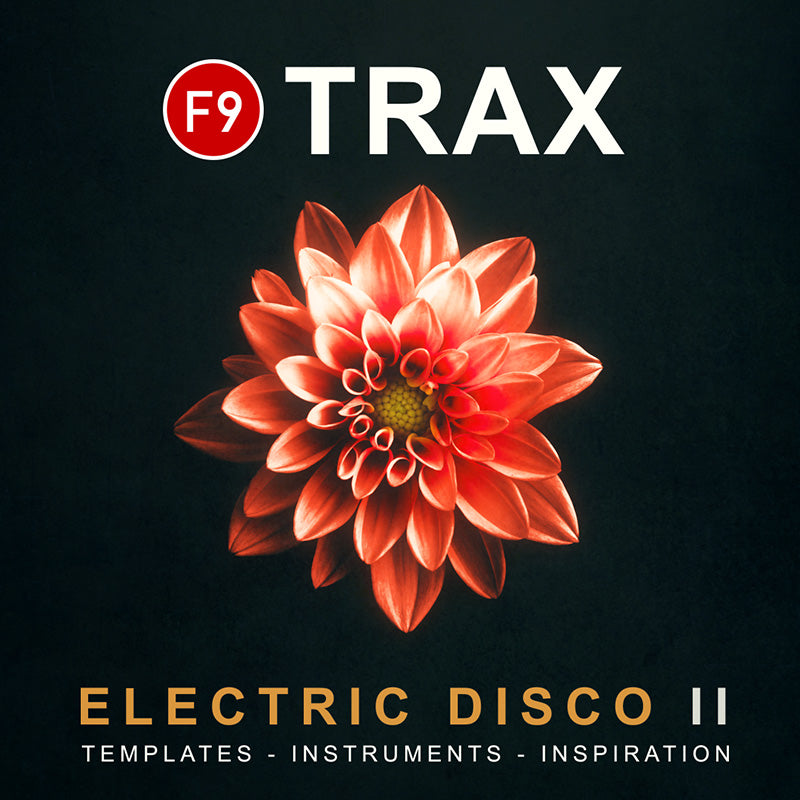 F9 TRAX Electric Disco II
CHOOSE YOUR FORMAT CAREFULLY
> All F9 digital products can be downloaded instantly after purchase
---
8Gb of Playable Patches, Technique and Inspiration

  
Ever since we started the F9 TRAX range of releases, we've been bowled over by the response from our friends and customers at F9. Coming from a disco background, I wanted to personally take this release to a level not seen anywhere else in the sample industry.

Welcome to F9 TRAX - Electric Disco II

With over 160 patches across an extraordinary 8Gb sound library and created over 5 months, we feel this release is untouched in its detail, power and price-point. Releasing during 2022, we are painfully aware of the issues all creative people face with cost-of-living rising across the entire planet so we've done our absolute best to keep this as reasonable as we can.

➜  Existing F9 customers, please check your inbox for an exclusive discount coupon.

Production Tutorial Part 1 - Intro and Drums / FX
If you're new to F9 TRAX, please buckle up - This release contains 5 entire DAW projects for Logic Pro X and Ableton Live with additional full-length WAV stem editions, plus the patches converted to Kontakt 5.8.1 onwards.

Our DAW TRAX projects are completely powered by multi-sampled instruments played via midi, giving you access to absolutely every nuance and note, making these the most flexible and downright useful template releases in existence.

Absolutely no 3rd-party plugins are required to run these projects - we use only built-in DAW tools from Logic and Ableton. Let us show you exactly how good your DAW can sound when it's fed the correct material. No need to worry about updates either!
Production Tutorial Part 2 - Basses & Guitars
Each DAW project comes with a detailed description called a session note that covers its production, sounds, music and mixing so we can not only give you the immense library but show you exactly how to use them in the comfort of your own creative space.

You can pick apart any aspect of these projects in your own time and see how professional and musically rich productions are composed, produced and finished.

For a long time I've been threatening to put together videos about disco production techniques Then - we had a brainwave - add all the tricks to these track projects and show you everything in the walkthrough videos.

I truly hope you love this release - it was built with love and passion for the modern collision between electronica and disco - a genre that always has and always will be the people's music!


James Wiltshire - F9 Audio / Freemasons (artists)
Production Tutorial

 

Part 3 - Keys, Synths and Brass Section
Nu-Disco Musical Tricks - How to break the rules of the minor scale
Production Tutorial  - Nu Disco Mixing Tricks 
The Projects ...
F9 TRAX San Fransisco 123Bpm C Minor 
This project is all about a groove - the main bass vamp that is this project's defining theme. We pull away from it in numerous ways throughout the production, whether that be to chordal modulations or more simplistic one-note vamps, or the classic late-70s-styled disco breakdown that's filled to the rafters with Disco Synth Fx from this pack's sound menus. The very best vamps and riffs are nearly always quite simple and play to the minor pentatonic scale so coming out for a moment or two ( check the chords just before the middle disco breakdown ) can really help to drive the power of your main riff home once you return to it.
Lead sounds sampled from the world's most famous 3 Oscillator synth provide soaring melodies from bar 65 onwards whilst staccato brass from the exclusive F9 Playable instruments add drama and energy. Everything always returns to the main groove until we end on a final coda section whose 4th chord 'borrows' a C major root chord before heading back to the minor scale.


F9 TRAX Munich 123Bpm E Minor
During the early 80s as the post-disco movement collided with the brand new Electronica and Synthesiser scene, dance music changed forever. From the moment Donna Summer's seminal classic 'I Feel Love' graced the world's dance floors, a genie was let out of a bottle never to return. In Europe ( Germany and Italy in particular ) the clash of synthesisers, drum machines and disco took off like a rocket.
With this project we wanted to pay tribute to the Italo-disco and northern European Hi-Nrg movements, but with a contemporary twist. This project perfectly illustrates the classic analogue and digital synth sources used for the detailed sampling process of this pack's patch library.
F9 TRAX Stockholm 123Bpm E Minor
Disco and house music have always been a perfect match. The main house rhythm was pretty much a direct copy of the sloshy open-hat end of late 70s disco and we wanted to cover it here but with a modern production edge and flourishes. I've been asked many times to supply a TRAX project nodding to the freemasons material and this seemed like the perfect opportunity.
The main musical section uses a ton of harmonic tricks that I will talk about on this page in the video covering the music. We've thrown as many as we possibly could in here. It's all about knowing where and when to break the rigidity of your chosen musical scale and plunder the richer notes.
This is production is a perfect example of the depth of the amazing patch library contained in this release working together.


F9 TRAX Ritual 123Bpm G Minor
There's been a powerful collision between Nu Disco and Pop just recently and with this production, we wanted to show how these two genres can gel together perfectly. This project moves between contemporary pop sections with drone basses and atmosphere to funk-driven chorus and bridge sections seamlessly.
An immensely tight rhythm section carries a background played on the "Soul Pluck' instrument from the collection and we add carefully considered layers of instrumentation as we progress.
Sonically this is deliberately modern and illustrates just how contemporary disco sounds this decade. In times of strife, all roads lead to disco.


F9 TRAX Republic 110Bpm C Minor
Contemporary Pop and R&B have been colliding with Nu-disco for some time and here we drop the tempo and come off the dance floor for a moment at 110Bpm. We also wanted to show you how important layering of Electric pianos and warm synth sounds can be, but most importantly we wanted to show you an important musical trick employed on the 1st chord of the principal musical section.
Warm, musical Keys are layered together and the use of Cmajor 7th as the 1st chord of the main harmonic sequence instantly gives out a bright feeling of summer. We add many other musical sections to show you just how versatile these Major-led sequences can be and the alternative sections delve into the more digitally sourced patches of this collection, instantly providing some contrast from the main analogue and electric piano patches in use throughout.
We've used two of the multi-sampled electric bass patches in this collection - see if you can hear where the second takes over. 
System Requirements & Specs
20GB Free disk space

 

for unpacking and installation ( 30Gb required for WAV version) 
Ableton Live 9.6 onwards ( including 10, 11 & 12 ) Standard or Suite

 

(This release will not work with Live intro or Live Lite) M1 users, please run Ableton in native mode - No need for Rosetta
Logic Pro X 10.2.6 Onwards including OSX 11 all Apple Silicon Hardware 
Kontakt 5.8.1 Onwards (full version required - this will not work with the free player editions of Kontakt) 
Logic Pro X Specs

9.37Gb Total Size
5 Main DAW Projects
Full Session Notes
6 Startup Projects
160+ Patches (Previews available via Apple loops)
216 BONUS Apple loops
216 BONUS WAV Loops
Full PDF Manual
Ableton Specs
8.8 Gb Total Size
5 Main DAW Projects
Full Session Notes
6 Startup Projects
160+ Live Racks (Previews available as Live clips)
216 BONUS (pre-warped) WAV Loops
Full PDF Manual
Wav Edition Specs

20.1Gb Total Size
5 Complete Stem sets
613 Main Music WAV Loops
216 BONUS Loops
Composite midi files of 5 main projects
Full PDF Manual
Kontakt Specs (Full Install of Kontakt required)

5.56Gb Total Size (using Kontakt's lossless compression)  
160+ Kontakt instruments
10 Macro Controls
339 Midi Files
Full PDF Manual
The Sound Libary Patch List: 
1 - Drums (Sound menus)

F9 T_EDII Atmos Loops
F9 T_EDII Bells & Chimes
F9 T_EDII Cowbells
F9 T_EDII Cymbals
F9 T_EDII Disco Etoms 1
F9 T_EDII Disco Etoms 2
F9 T_EDII Disco Etoms 3
F9 T_EDII Disco Timps
F9 T_EDII FX Hits
F9 T_EDII Hard Claps
F9 T_EDII Hats 1
F9 T_EDII Hats 2
F9 T_EDII JXP Bomb
F9 T_EDII JXP Zapp
F9 T_EDII Kicks
F9 T_EDII Lazer Syn Toms
F9 T_EDII Live Clap
F9 T_EDII May 4th Toms
F9 T_EDII Nordic Disco FX
F9 T_EDII Percussion
F9 T_EDII Pre Shifts
F9 T_EDII Reverb Drum Hits
F9 T_EDII Shakers
F9 T_EDII Snares Super Tight
F9 T_EDII Steam-pipe Snare
F9 T_EDII Tambourines
F9 T_EDII Tight Claps
F9 T_EDII Tight Snares
F9 T_EDII Toms
F9 T_EDII Triangles
F9 T_EDII Vinyl Loops
F9 T_EDII Zild Live Hi Hat1
2 - Basses

F9 EDII Alpha Funk Bass
F9 EDII Bass Slides Fast
F9 EDII Blindside Bass
F9 EDII Creamy Bass
F9 EDII Disco Driven Bass
F9 EDII Disco Fire Bass
F9 EDII Full Bass
F9 EDII JP8 Pulse Bass
F9 EDII Juno Neon Bass
F9 EDII JXp Slides
F9 EDII Kelly Bass
F9 EDII Live Bass Slides
F9 EDII MMan Bass
F9 EDII Mutate Bass
F9 EDII Nash Funky Bass
F9 EDII Nu Disco Bass
F9 EDII Nu-Disco Sub
F9 EDII P5 Pulse Bass
F9 EDII Reka Drone Bass
F9 EDII Slider Bass
F9 EDII Spike Juno Bass
F9 EDII Sub 808
F9 EDII Thrilled Bass
F9 EDII Warm Disco Bass
F9 EDII Weekend Bass
3 - Keys & Pianos

F9 EDII Piano Stack
F9 EDII Disco Whirly 2
F9 EDII Disco Grand 2
F9 EDII Neo Epiano
F9 EDII Disco Grand
F9 EDII Layer Epiano
F9 EDII 70s Taped Piano
F9 EDII Disco Whirly
4 - Guitars

F9 EDII 80s Disco Guitar
F9 EDII Disco Guitar
F9 EDII Disco Picks
F9 EDII Disco Wah Gtr
F9 EDII Guitar Noise FX
F9 EDII Mutate Pick Gtr
F9 EDII Muted Dbl Track
F9 EDII Muted Gtr 1
F9 EDII Muted Gtr 2
F9 EDII Synth Gtr
5 - Synths

F9 EDII 3P Ping
F9 EDII Bandaxal
F9 EDII Brass Lead
F9 EDII Disco Lead
F9 EDII Disco Poly
F9 EDII Disco Rez Dive
F9 EDII Evolver Bite
F9 EDII Evolver Blowfish
F9 EDII Juno Bite Poly
F9 EDII Juno Class
F9 EDII Juno Rise
F9 EDII Juno Whip Ld
F9 EDII JXP Clouds
F9 EDII JXP Timeless
F9 EDII Metal Poly
F9 EDII Midnight Lead
F9 EDII Mod Riser
F9 EDII Mog Lead Saw
F9 EDII Mog Paris Ld
F9 EDII Mog Power Ld
F9 EDII MPopcorn
F9 EDII Nord Gothic
F9 EDII Nord Sweep
F9 EDII Nord Yieah
F9 EDII OBX Daft Funk
F9 EDII OBX Disco Brass
F9 EDII OBX Disco Squidge
F9 EDII OBX Extreme Poly
F9 EDII OBX Funk Blip
F9 EDII OBX Open Brass
F9 EDII OBX Pulstar
F9 EDII OBX Sugarplum
F9 EDII OBX Uptight Brass
F9 EDII OBX Yacht Brass
F9 EDII Oxide Poly
F9 EDII P1 FunkLead
F9 EDII P5 Acre Plk
F9 EDII P5 DIsco Poly
F9 EDII P5 Force 5
F9 EDII P5 Munich Blip
F9 EDII P5 Munich Ld
F9 EDII P5 Rezoid
F9 EDII P5 Rhapsody
F9 EDII Quadra Saws
F9 EDII Terradive
F9 EDII The Cars Ld
6 - Keys, Plucks and Bells

F9 EDII Clav Funk
F9 EDII Clav Phase
F9 EDII Disco Bellz
F9 EDII Disco Harp
F9 EDII Funk Clav Low
F9 EDII Heavy Pluck
F9 EDII JXP Clav
F9 EDII JXP Thin_Bells
F9 EDII JXP XBells
F9 EDII Mallet Plk
F9 EDII OBX C90 Plk
F9 EDII OBX Italo Pluck
F9 EDII OBX Robot Funk
F9 EDII Orch Stab
F9 EDII PSS Celeste
F9 EDII PSS Delight
F9 EDII Republic Keys
F9 EDII Retro Fi Pluck
F9 EDII Soul Growl
F9 EDII Soul Pluck
7 - Strings and Brass

F9 EDII Bones Stacc
F9 EDII Bourne Strs
F9 EDII Brass Fall
F9 EDII Brass SFZ Long
F9 EDII Brass SFZ Short
F9 EDII Brass SFZ Warm
F9 EDII Brass Stacc Warm
F9 EDII Brass Sus Warm
F9 EDII Disco Bowed Strs
F9 EDII Disco Fast Strs
F9 EDII Disco Pizz
F9 EDII Disco Saxes Stacc
F9 EDII Disco Spicc Strs
F9 EDII Disco Stacc Strings II
F9 EDII Drama Stabs
F9 EDII Horns Stacc High
F9 EDII Indie Strings
F9 EDII Ohio Strs
F9 EDII Solina Str
F9 EDII String Disco Strikes
Compatibility List:
Compatible with Logic Pro X 10.2.4. Onwards (including M1 and OSX Monterey / Ventura)

Compatible with Ableton 9.5 Onwards (Standard or Suite)

Compatible with Ableton 10 onwards (Standard or Suite)

Compatible with Ableton 11 onwards (Standard or Suite)

Compatible with Ableton 12 (Standard or Suite)

Compatible with Kontakt 5.8.1 Onwards (Requires a full install of Kontakt - not the free Kontakt editions) 
---
Legal :
Logic Pro, Smart Controls, Apple Loops, EXS24, and Apple Silicon are trademarks of Apple Inc.
Ableton, Live Pack, and Live Racks are trademarks of Ableton AG.
Kontakt, Maschine, Komplete Kontrol, and Native Access are registered trademarks of Native Instruments GMBH. Steinberg,
Cubase, HALion, Halion Sonic SE, and VST are trademarks of Steinberg Media Technologies GmbH.
Bitwig is a trademark of Bitwig GmbH.
AKAI, MPC & Qlink are trademarks of Inmusic Brands Inc.
These trademarks are mentioned exclusively to identify compatibility with the respective companies' music production software and functionalities.
F9 Audio Ltd does not claim any affiliation or endorsement from Apple Inc, Steinberg Media Technologies GmbH, Native Instruments GMBH, Ableton AG, Bitwig GmbH, or Inmusic Brands Inc. The trademarks of these respective companies are used solely for the purpose of identifying compatibility with their music creation software.
References to other hardware devices or sub-brands on this page, including instruments and registered trademarks, are provided for descriptive purposes only. For instance, when referring to instrument brands and their associated trademarks, the intention is to describe the sound or instrument used in creating a specific sound or patch. F9 Audio Ltd does not maintain, nor does it claim, any association with or endorsement by these brands. Any goodwill connected to these brands lies with the brand owner.
To see this product's license agreement, click HERE