F9 Toolkit ( Logic Edition )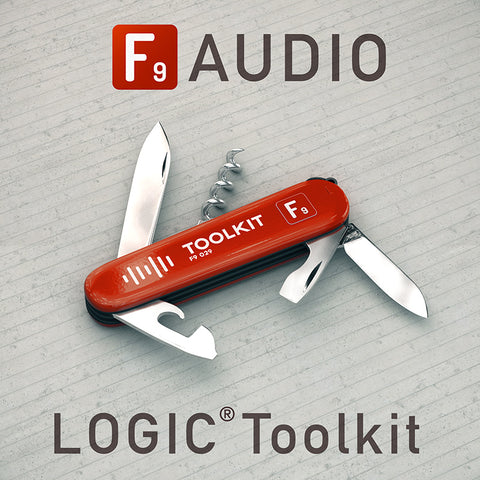 Supercharge Your Logic System
F9 Audio is exceptionally proud to present the F9 Toolkit: The most powerful and comprehensive set of upfront and contemporary sounds ever assembled for Logic. 
5Gb+ / 270+ Channel strip instruments that are easy to install will supercharge your Logic system. Efficient programming ensures these Channel strips load quickly with no Latency and arrive in your production EQ'd & carefully processed and ready for production.
Created by producers for Logic users at every level. See how powerful your Logic system can be when it's fed the right sounds. 
The F9 Toolkit for Logic 9.1.8* and All versions of Logic Pro X* ( including M1 Silicon) 
'It's beyond amazing - Instant Inspiration' - Steve Anderson
Video Walkthroughs / Manuals 
"The F9 toolbox is one of the best ideas to come out of the soundware market. It has successfully delivered the sounds of essential drums, bass and synths that are so often searched for through endless YouTube geek tutorials (thankfully minus the coughs and "Wassups"). The sonics are powerful and all contained within a safe audio spectrum. The magic is a Logic page full of ready-made gorgeous sounds via the sampler without having to fire up the big synths. The serious producer can get straight down to work and quickly create. Essential stuff" - Pete Heyward - Goloka
F9 Toolkit Standard edition :
5GB+ Multi-sampled instruments and Sound Menus 

270+ Channel Strip settings 
F9 Toolkit Deluxe  edition :
5GB+ Multi-sampled instruments and Sound Menus 

270+ Channel Strip settings 

5 Full Logic Song arrangement** pages of the Main audio demos with all midi and mixing/production tricks on show 

7 Startup pages with Starter beats and instruments already set up in the arrange page
System requirements 
At least 15gb free space for download and decompression - ( Download Zip is 4.2 Gb )

Logic Pro 9.1.8 Or any version of Logic Pro X (Including M1 Silicon) 
This pack may be used for the creation of Library Music 
F9 Logic Toolkit patch list :
Kick Menus
F9 808 Kicks

F9 Club Kicks

F9 EDM Kicks

F9 Kick Explosions

F9 Machine Kicks

F9 Stadium Kicks

F9 Tight Kicks

F9 Urban Kicks
Clap Menus
F9 Finger Clicks

F9 Hybrid Claps Short

F9 Hybrid Claps

F9 Live Claps

F9 Machine Claps Short

F9 Machine Claps

F9 Minimal Claps
Snare Menus
F9 808 Snares Amped

F9 808 Snares

F9 Hybrid Snares Short

F9 Hybrid Snares

F9 Machine Snares

F9 Rim Shots Amped

F9 Rim Shots

F9 Uber Snare Explosions

F9 Uber Snares

F9 Urban Snares
Hat Menus
F9 808 Hats

F9 Closed Hats 1

F9 Closed Hats 2

F9 Live Hi Hat I

F9 Live Hi Hat II

F9 Live Hi Hat III 2002 LOFI

F9 Live Hi Hat III 2002 Vintage

F9 Open Hats
Shaker & Tambourine Menus
F9 Live Shaker Rattles

F9 Live Shakers 2

F9 Live Shakers

F9 Live Tambourine

F9 Machine Shaker

F9 Machine Tambourine

F9 Verb Tambourine
Percussion Menus
F9 Analog Perc 1

F9 Analog Perc 2

F9 Hand Perc I

F9 Hand Perc II

F9 Layered Percussion

F9 Live Bongos

F9 Live Congas

F9 Machine Perc 80s FX

F9 Machine Perc

F9 Timbale Fills

F9 Timbale Fills Radio

F9 Verb Percussion
Tom Menus
F9 Analog Tom

F9 Live Toms

F9 Machine Toms Non Lin

F9 Machine Toms
Cymbal & FX Menus
F9 Electronic Cymbals

F9 Electronic Cymbals II

F9 Glitch Tops

F9 Live Cymbals

F9 Noise Falls

F9 Noise Rise Mod Wheel

F9 Spaced Faller

F9 Take Off FX

F9 TK Vinyl Grunge

F9 Trailer Slams Filtered

F9 Trailer Slams

F9 White Noise hits
Uber Funk Kit
F9 TK Uber Funk Kit Hats

F9 TK Uber Funk Kit
808 Basses ( X 9 )
F9 808 Bass A

F9 808 Bass B

F9 808 Bass C

F9 808 Bass D

F9 808 Bass E

F9 808 Bass F

F9 808 Bass G

F9 808 Bass H

F9 808 Bass I
Analog Basses ( X 9 )
F9 Analog Bass A

F9 Analog Bass B

F9 Analog Bass C

F9 Analog Bass D

F9 Analog Bass E

F9 Analog Bass F

F9 Analog Bass G

F9 Analog Bass H

F9 Analog Bass I
Chill Wave Bass ( X6 )
F9 Chill Wave Bass A

F9 Chill Wave Bass B

F9 Chill Wave Bass C

F9 Chill Wave Bass D

F9 Chill Wave Bass E

F9 Chill Wave Bass F
Digi Basses
F9 Digi Bass A

F9 Digi Bass B

F9 Digi Bass C

F9 Digi Bass D

F9 Digi Bass E

F9 Digi Bass F

F9 Digi Bass G II

F9 Digi Bass G

F9 Digi Bass H

F9 Digi Bass I

F9 Digi Organ Bass
FM Basses
F9 FM Chimera Bass

F9 FM Chunk Bass

F9 FM Classic 7 Bass

F9 FM Eranu Bass

F9 FM Growl Bass

F9 FM London Bass

F9 FM Organ Bass

F9 FM Solid BAss

F9 FM Spiked Bass
Reese Basses
F9 Reese Bass A Extreme

F9 Reese Bass A

F9 Reese Bass B Extreme

F9 Reese Bass B

F9 Reese Bass C

F9 Reese Bass D

F9 Reese Bass E

F9 Reese Bass F

F9 Reese Bass G

F9 Reese Bass H

F9 Reese Bass I
Live Bass
F9 Erodyne Red Alert Bass

F9 Erodyne Red Funktified

F9 Erodyne Slap Bass

F9 Jazz Bass Fingered Amp Room

F9 Jazz Bass Fingered Amp Scoop MB

F9 Jazz Bass Fingered

F9 Precision 66 Dub Bass

F9 Precision 66 Fingered Bass

F9 Precision 66 Picked Bass Amp

Roon

F9 Precision 66 Picked Bass Wide Growl

F9 Precision 66 Picked Bass

F9 Precision 66 Picked Bootsy

F9 Precision 66 Punked Bass II

F9 Precision 66 Punked Bass

F9 Stingray II Auto Wah

F9 Stingray II Fingered Bass Amped

F9 Stingray II Fingered Bass

F9 Stingray Nu Disco Bass
Analog Pads
F9 Dekkards Pad

F9 Filtration Pad

F9 J8 Space Pad

F9 J8 Strings

F9 Juno Fast Pad

F9 Juno Saw Strings

F9 Juno Strings

F9 JX3 Strings

F9 JX3 Swhirl

F9 JX10 Pad

F9 Mega Analog String

F9 Digital Pads

F9 Bristol Strings

F9 Glass Pad

F9 Perc Organ

F9 Soft Tasmania Pad +MW

F9 Soft Thick Pad +MW

F9 Soft Vienna Pad +MW
Liquid Pads
F9 Liquid Dakota Pad

F9 Liquid Dekkard Pad

F9 Liquid Fusion Pad

F9 Liquid Hartmann Pad

F9 Liquid inner city Pad

F9 Liquid Pris Pad

F9 Liquid Prometheous Pad

F9 Liquid Scehelle Pad

F9 Liquid Scott Pad
Pianos
F9 Grand Piano

F9 House Piano

F9 Band Pass Epno

F9 Dirty Epno

F9 Grand Piano Cathederal Verb

F9 Lofi Grand Piano

F9 Epno Mk1

F9 Epno Mk2

F9 Vinyl Epno

F9 Whirly Amped

F9 Whirly Gig in the Sky
Plucks & Mallets
F9 Ethnic Plucks

F9 Ethnic Pluck A

F9 Ethnic Pluck B

F9 Ethnic Pluck C

F9 Ethnic Pluck D

F9 Ethnic Pluck E

F9 Ethnic Pluck F
Mallets
F9 90s Mallets

F9 China Mallets

F9 Digital Dulcimer

F9 Digital Marimba

F9 FM Mallets

F9 Lead Vibes

F9 Master Mallets

F9 Mixed Kalimba

F9 Wooden Mallets
Synth Plucks
F9 Bauhaus Pluck

F9 DX Pluck A

F9 DX Vice Pluck

F9 Enya Pluck

F9 Finland Pluck

F9 Hannet Pluck

F9 Insomnia Pizz

F9 JP8 Dutch Pluck

F9 JP8 Lonely Pluck

F9 JP8 Square Pluck

F9 JP8 Vinatge Pluck

F9 Mellow Mallet Pluck

F9 Miami Pluck

F9 Nord Baleric Pluck

F9 Nordic Pluck

F9 OB6 Rez Pluck

F9 Ontario 5th Pluck

F9 Persuader pluck

F9 Pizzi Pluck

F9 Quebec Pluck

F9 Samplelight Pluck

F9 Starlight Pluck

F9 Xmod Goldsmith Pluck
Synth Polys
F9 90s Stacked Poly

F9 Blofeld Poly

F9 FM Strings Poly

F9 Future Classic Poly

F9 J8 Poly Nylon Poly

F9 JX Space Poly

F9 MW Thin Poly

F9 OB Hyper Brass Poly

F9 OB Whale Poly

F9 OB Wide Poly

F9 VS Phase Strings

F9 Warmth Poly
Layer Polys
F9 TK Layer Poly Hi A

F9 TK Layer Poly Hi B

F9 TK Layer Poly Hi C

F9 TK Layer Poly Hi D

F9 TK Layer Poly Hi E

F9 TK Layer Poly Low A

F9 TK Layer Poly Low B

F9 TK Layer Poly Low C

F9 TK Layer Poly Low D

F9 TK Layer Poly Low E

F9 TK Layer Poly Mid A

F9 TK Layer Poly Mid B

F9 TK Layer Poly Mid C

F9 TK Layer Poly Mid D

F9 TK Layer Poly Mid E
Guitars
F9 Funk Palm Mutes A

F9 Funk Palm Mutes II

F9 Funk Palm Mutes III Strat

F9 Funk Palm Mutes IV Funk

F9 Stereo Power Chords

F9 Sustain Guitar
Leads
F9 Andre Lead

F9 Bob & Dre Lead

F9 China Syndrome Lead

F9 CPU Lead

F9 Dafunked Lead

F9 Dekkards Lead

F9 DX Cutty Sark Lead

F9 DX Levaithon Lead

F9 DX Vanilla Lead

F9 Eurhythmical Lead

F9 French Growl Lead

F9 Fromage Lead

F9 Ground Zero Lead

F9 Madagasca Vintage Lead

F9 Metal Works Lead

F9 Nu Wave Lead Raw

F9 Nu Wave Lead

F9 Pluto Lead

F9 Robocop Lead

F9 Sinusoidal Lead

F9 Spice Voger Lead

F9 Spinal Lead

F9 Strings 4 Life
Legal information : 
Logic Pro, Smart controls, Apple loops and EXS24 are trademarks of Apple Inc. F9 Is not affliliated or endorsed by Apple in any way, and its trademarks are only used to show compatibility with Apple's Logic Pro Software.

All additional product and company names including trademarks™ or registered® trademarks are included for descriptive or illustrative purposes only. F9 Audio does not have or claim to have any affiliation or endorsement with these external brands. Any goodwill attached to those brands rests with the brand owner.

 



All specifications are subject to change without notice.

To see this product's license agreement, click HERE