Grid V3.0 - Future Retro Drumtrax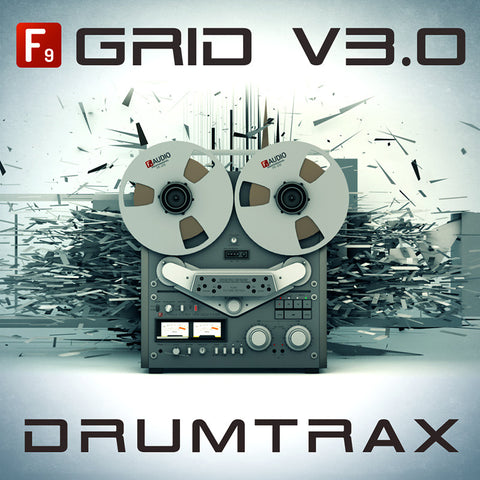 Processed with real tape, the authentic sound of 80s drums inside your DAW
9 Sets of Future Retro drum stems.  

Professionally Recorded, Programmed, Mixed and Arranged 

Processed via real analog tape 

Fully arranged Pages for either Ableton Live 9.2 or Logic Audio 

The Sound of classic drum machines mixed for the 21st century 

Instant production inspiration 

Produced by a Grammy Nominated production team 

All musical parts from the 1st audio demo contained in the main zip files 

Full drum kit of all Sounds used on each DAW page 

Additional Sound menu and Fx Kits in a separate page
If you're new to Drumtrax come and see why the idea has won F9 Audio 10/10 (online ) and 5 Star reviews ( Sound On Sound ) .
Please note - This is a drum and FX based product. Apart from the demo audio mentioned above, Music is used on the Audio demos for demonstration purposes only! 
The arrange pages above are only available with the Logic and Ableton versions of the pack :
System requirements :
An official version of Logic 9.1.8 or any version of Logic Pro X
Ableton Version 9.2 onwards 
Compatibility List:

Compatible with Logic Pro 10.2 Onwards ( Including M1 and OSX Monterey / Ventura ).
Compatible with Ableton 9.5 Onwards ( Standard or Suite )
Compatible with Ableton 10 Onwards ( Standard or Suite )
Compatible with Ableton 11 Onwards ( Standard or Suite )
Compatible with WAV Formats
Legal information : 
Logic Pro, Smart controls, Apple loops and EXS24 are trademarks of Apple Inc. F9 Is not affliliated or endorsed by Apple in any way, and its trademarks are only used to show compatibility with Apple's Logic Pro Software.

Ableton, Live Pack, Live Racks are trademarks of Ableton AG. 

All additional product and company names including trademarks™ or registered® trademarks are included for descriptive or illustrative purposes only. F9 Audio does not have or claim to have any affiliation or endorsement with these external brands. Any goodwill attached to those brands rests with the brand owner.

 



All specifications are subject to change without notice.

To see this product's license agreement, click HERE
In-Depth
• 30 years after their release the Drum machines from the golden age of electronic music are still everywhere in contemporary music production. The 8 and 12-bit transistor based punch is as vital now as it always was.
• There are literally hundreds of versions of the individual hits out there but what sets the Drumtrax System apart are the pre-arranged DAW pages that allow you to jump right in the moment inspiration hits you without the need to worry about hours of drum programming or huge latency problems that often plague a plug-in heavy drum programming session .
• Produced and arranged by a Grammy nominated production team and overseen by James Wiltshire of the Freemasons these production-ready stems stand apart in a sea of 1bar loops.
• Months of development went into the stems. Initially scheduled for Autumn 2015 release they were pulled at the last minute to add one vital ingredient - The Warmth, depth and gentle drive of real analogue tape. After many tests that ranged from everything from a 1/2 inch process ( too clean ) to a 3 head cassette machine ( too horrible ), an ex-broadcast Hi Speed Revox B77 was chosen as the machine giving the right amount of vintage flavour and grit to the drum Stems. This process instantly made them work together in a way that was just impossible by any other means - Time well spent
• During the development we also had the new range of Roland Boutique synths in for review. All the Musical parts, solos and FX of the main audio demo above are included in the Larger Zip files - Do whatever you wish with them . There's even an alternative set of stems from the "Cities" drumtrax at a slower tempo
• Rex files of all the principal parts are provided so you can move parts between pages and as always a full Drum Kit of the sounds used is provided on each page .
• As one last shot - All individual sounds are available as Menu Styled kits along with all the FX on a Separate arrange page - you can create entirely new drum arrangements without leaving this page