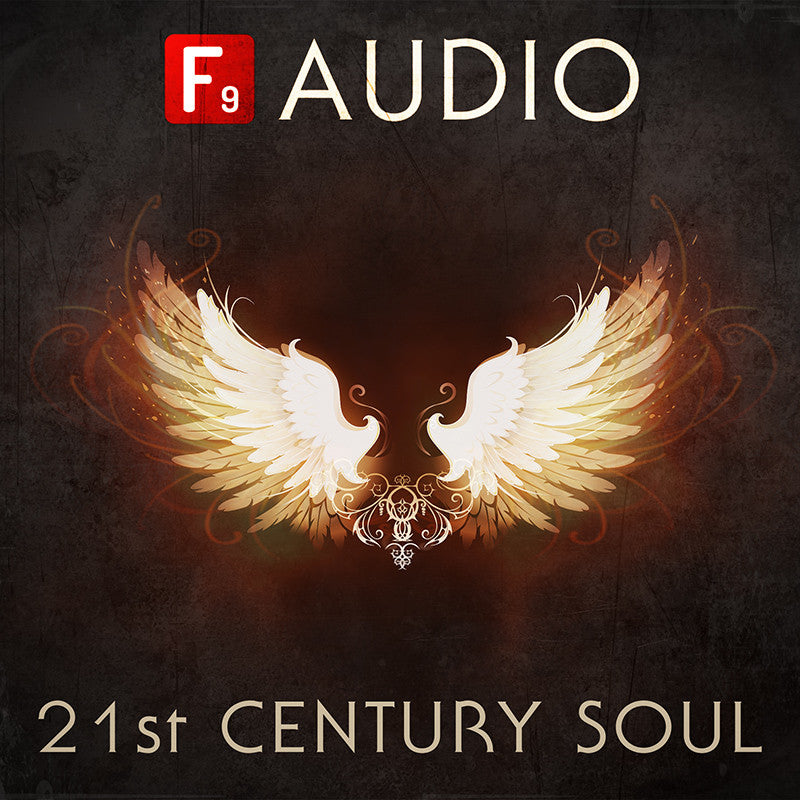 21St Century Soul
CHOOSE YOUR FORMAT CAREFULLY
> All F9 digital products can be downloaded instantly after purchase
---
Awarded 9/10 in Computer Music! 
F9 Audio is Very proud to present 21st Century Soul. The second instalment in our no-compromise series of sample packs for the producer seeking the most professional and comprehensive set of tools available. WAV files for all DAWs and sampler patches for ESX24, Ableton Live racks Kontakt (full version) NNXT + SFZ. 
In the post-EDM world, one sound has been pouring out of the world's headphones and radio speakers: SOUL. Today's producers are taking the sounds and chordal shapes of the past and fusing them with the production values and sonics of the future.
You hear it in the Toronto Hip Hop that's taken over the world charts. You hear it in the gravely gospel-drenched vocals of the likes of Rag and Bone Man or the Neo-retro sound of Jorja Smith, Frank Ocean and John Legend. Soul is everywhere and is a welcome return to rich complex chords after the Stadium triads and Rock-esque powerchords that have dominated electronica over the last 10 years.
Before we created this immense pack we asked ourselves - What we we personally want from '21st Century Soul"?  The answer was simple: Big fat musical hooks and lots of them with Beats that just work. For decades Vintage Soul has been plundered by the very finest Hip Hop producers, but now sampling original vinyl is just not financially viable for 99% of recording artists.
21ST Century Soul in Computer Music
Just a brief glance of the specs below will illustrate the countless hooks, riffs and melodies in this pack but we also have some brand-new concepts: Maxi riffs - Huge soulful motifs played on multiple instruments by live by top-drawer musicians that are just crying out to be plundered. Inspiration loops - Try one of these multi-instrument mini-productions for instant gratification in your beat. Resampled Loops - Once we finished we just chopped parts up and started again - Unique and incredibly forward-thinking. Wherever possible Midi Files are available.
But soul is nothing without the drums right? This pack hits the spot perfectly and gives you everything you need from Heartbroken 808s to Multi-layered drum productions alongside Future -Retro Drum parts mixed with exceptional modern bite. All of these are set against perfectly processed Acoustic recordings.
We're always looking to make soundware more useful and here we present Mini Stems & Loops in 1 pack - How many times have you purchased a pack with everything normalised and then struggled to get all the beats to work with each other? Inside this pack are a clutch of drum stem sets (17 deluxe - 13 Standard) that give you a near-perfect launchpad. The stems are drag and drop and are mixed to work perfectly together and are never over-processed so you can add your own sonic stamp. Normal Loops are of course also available for every single part (and more). Check the video for more info.
Deluxe edition users get an entire extra 1Gig of audio including a whole set of additional drum sounds.
We hope you can hear from the demos and the video just how much work went into this incredible collection and we hope you enjoy it as much as we enjoyed its creation.

Equipment used in this pack creation:
73 Suitcase Electric Piano, Roland V Piano with V2.2 Engine upgrade. Moog Minimoog, Slim Phatty and Voyager, Korg Minologue, Neve 1081 + 33135 Pre amps and Equalisers. API 512 Pre amps, Neumann TLM 147 Valve Mic, Shure SM-7B Mic, Supberlux R102 Ribbon Mic, Chandler Lil devil 500 series EQs, SSL Xrack Super analogue EQ + Dynamics, Stereo Moog MF 101 Filter pedals, Electron Heat distortion unit, Original Roland TR 808, Handcrafted labs Valve compressor, Chandler Zener Limiter. Kush Audio Fatso. Roland TR8, Jupiter 8 and Jupiter 4, GML 8900 Dynamic range controller, GML 8200 Equaliser, Thermionic Culture Vulture plus 15. Fostex, Oban and AKG spring reverbs. Roland V- synth, Eventide Eclipse, Reverb and modulation pedals OTO Bam desktop reverb, DSI Prophet 6, Acoustic pianos, Zoom H6 Location recorder, DSI Tempest, Boss SP505 sampler (Vinyl Sim) Line 6 POD HD pro, VOX Valetronic VX-20 Dunlop Wah, Sansamp Tri-AC +Various guitar pedals. Fender Stratocaster Fender Jazz bass (US), Custom Paul Nash Bass. Vintage Technics cassette decks and 2 boxes full of percussion. Zildjan Cymbals, Sabian Hi hats, Various snare drums. 
Deluxe Edition
5.08Gb 24bit Audio
294 Beat and Drum loops
17 Separate Beat stem packs with 169 Wav stems
246 Midi files
228 Chord samples
400 drum samples Including 141 Deluxe drum samples
73 Bass loops
68 Synth Loops
56 Maxi Riff files
56 Resampled loops
21 Inspiration loops
87 Tape delay hits
60 Electric piano loops
63 Piano loops
41 FX & Vox Loops
42 Grunge layers
50 Guitar loops
41 Key Loops
43 Organ Loops
30 String and pad loops
40 Kontakt Instruments with Custom GUI + controls *
40 Soft sampler patches - EXS 24, Live racks, NNXT, SFZ, Structure
Standard Edition
4.01Gb 24bit Audio
244 Beat and Drum loops
13 Separate Beat stem packs with 130 Wav stems
219 Midi Files
228 Chord samples
259 drum samples
47 Bass loops
50 Synth Loops
43 Maxi Riff files
45 Resampled loops
21 Inspiration loops
87 Tape delay hits
46 Electric piano loops
63 Piano loops
41 FX & Vox Loops
42 Grunge layers
36 Guitar loops
32 Key Loops
43 Organ Loops
24 String and pad loops
35 Kontakt Instruments with Custom GUI + controls *
35 Soft sampler patches - EXS24, Live racks, NNXT + SFZ
 *Please note - the Kontakt part of this release requires a full version of Kontakt - It will not work correctly with the Free Kontakt Player 
All product and company names including trademarks™ or registered® trademarks are included for descriptive or illustrative purposes only. F9 Audio does not have or claim to have any affiliation or endorsement with these external brands. Any goodwill attached to those brands rests with the brand owner.

All specifications are subject to change without notice.
---
Legal :
Logic Pro, Smart Controls, Apple Loops, EXS24, and Apple Silicon are trademarks of Apple Inc.
Ableton, Live Pack, and Live Racks are trademarks of Ableton AG.
Kontakt, Maschine, Komplete Kontrol, and Native Access are registered trademarks of Native Instruments GMBH. Steinberg,
Cubase, HALion, Halion Sonic SE, and VST are trademarks of Steinberg Media Technologies GmbH.
Bitwig is a trademark of Bitwig GmbH.
AKAI, MPC & Qlink are trademarks of Inmusic Brands Inc.
These trademarks are mentioned exclusively to identify compatibility with the respective companies' music production software and functionalities.
F9 Audio Ltd does not claim any affiliation or endorsement from Apple Inc, Steinberg Media Technologies GmbH, Native Instruments GMBH, Ableton AG, Bitwig GmbH, or Inmusic Brands Inc. The trademarks of these respective companies are used solely for the purpose of identifying compatibility with their music creation software.
References to other hardware devices or sub-brands on this page, including instruments and registered trademarks, are provided for descriptive purposes only. For instance, when referring to instrument brands and their associated trademarks, the intention is to describe the sound or instrument used in creating a specific sound or patch. F9 Audio Ltd does not maintain, nor does it claim, any association with or endorsement by these brands. Any goodwill connected to these brands lies with the brand owner.
To see this product's license agreement, click HERE