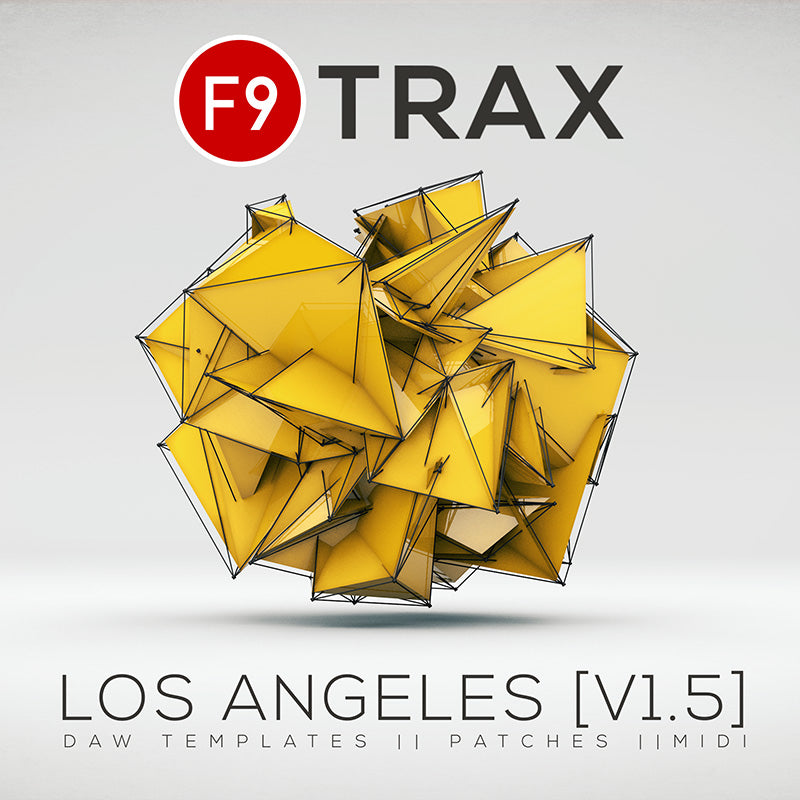 F9 TRAX Los Angeles
CHOOSE YOUR FORMAT CAREFULLY
> All F9 digital products can be downloaded instantly after purchase
---
21st Century Pop in Logic, Live and WAV formats
TRAX Los Angeles is Volume 1 of a series of TRAX releases dedicated to bringing you the sounds, techniques and music from the chart dominating creatives working out of the City of Angels.   
5 Entire DAW project pages show you exactly how modern records are pieced together and are ready for you to tear down and build into your own composition. A full set of session notes is available on every page showing you how we've achieved the production sonically and musically .Every trick is there for you to investigate and learn from.
Over 110 Multi-sampled instruments and sound menus are used in this release with full instructions on how to add these instruments into your own library. On this release the sound library tops 3.5 Gb ( unzipped ) and includes Pop and reverb-drenched pianos, tons of Multi-sampled analogue, Classic & upfront Digital synths alongside some exceptional drum menus. 
Our new Zenith 808 and 606 & Microbrute kits are included featuring a minimum of 8 way Round-Robin sampling and Analog Parallel processing on the way in. As always everything has been sampled with a gold standard recording chain including API Pre amps, Neve 1081 and 1057 EQs, SSL Xrack EQ + Dynamics, GML 8900 + 8200 Dynamics + EQ
Like all TRAX releases this pack needs No 3rd Party Plugins to operate. See how good your DAW can sound when it's fed the right material.
Future Retro techniques are heavily used in LA and new additions to the studio at F9 are in full effect on this release. The classic reverb tails of an original Lexicon 224 can be heard on many of the drum and FX menus and more than 50% of the drum content has been processed and warmed up by pushing into an original ex-BBC Studer A80 mastering tape machine ( Brand new 911 tape used ).
TRAX releases speak for themselves and the exceptional feedback from users at every single level from hobbyists to the world's finest producers, writers and artists means we know just how important these releases are - We are now dedicated to pushing soundware forward and getting you the hottest sounds and techniques right inside your own DAW.
See the Notes, Learn the Tricks 
Every generation sees new musical tricks and fashions making their way into productions. IN every TRAX release you have full access to the Midi and controller information so you can see exactly how contemporary chord voicing is applied in modern pop or how syncopated riffs between instruments work together as a whole. 
See how using just root and 3rds instead of full chords instantly gives you a 21st century sound
See how the end of the note is almost as important as the start position in terms of groove and tightness 
See the Processing, Learn the Tricks 
So you need a drive laden with Plugins to create a professional mix right? Not so - We have achieved all this with nothing more than the stock set of processes inside Logic and Live. We've even got some serious tricks in play to get these close to the commercial Level*. 
Exceptional Detail 
Every project has been prepared as if it were a commercial release and minimal automation has been used making editing of the projects a breeze  
For Hi-rez Screen shots of all the project pages click HERE
Compatibility
This release requires either Ableton 9.5 onwards Including 10,11 & 12 (Standard or Suite Editions )  or any version of Logic X (including M1 Silicon ). It is not compatible with Ableton Live Intro or Logic 9
Logic X ( all versions ) Specs :
5.3Gb Unpacked.
5 Entire DAW projects.
Full session notes for each page.
1 Blank writing template.
3.5Gb Sound library
135 EXS24 channel strip settings
35 Drum menus
3 Zenith 808, 606 and Microbrute Kits
15 Bass Strips
18 Poly Synth Strips
9 Key Strips
15 Synth Strips
7 Mallet Strips
7 Pluck Strips
10 Vocal Strips
8 FX Strips
331 WAV Drum sounds
Full PDF manual
Ableton Live Standard + Suite
4.4Gb Unpacked.
5 Entire DAW projects.
Full session notes for each page.
1 Blank writing template.
3.5Gb Sound library
24 Racked Drum menus
3 Zenith 808, 606 and Microbrute Kits
18 Bass Racks 
13 Poly Synth Racks
12 Key Racks
15 Synth Racks 
8 Mallet Racks
12 Pluck Racks
10 Drum Racks 
10 Vocal Racks
7 FX Racks
331 WAV Drum sounds
Full PDF manual
Is there a catch? Only one, and its standard across this style of sample pack to protect all users - All the material in this pack is Royalty free as normal, the Demo Arrangements are Copyright of F9 Audio and you must make a new work by changing the page, midi notes and adding your own sounds. 
As always with TRAX - This product is not suitable for the creation of Library music. Due to the template nature of the release, a slightly different licence agreement is supplied - To read it please click HERE.
 * Main audio demos are processed with one instance of Izotope Ozone 7 on the master channel. All instrument and channel processing as per the projects.
Compatibility List:

Compatible with Logic Pro 10.2 Onwards (Including M1 and OSX Monterey / Ventura).
Compatible with Live 9.5,10,11 & 12 (PC)
Compatible with Live 9.5,10,11 & 12 (MAC)
Compatible with systems that can use WAV stems / loops (WAV edition)


---
Legal :
Logic Pro, Smart Controls, Apple Loops, EXS24, and Apple Silicon are trademarks of Apple Inc.
Ableton, Live Pack, and Live Racks are trademarks of Ableton AG.
Kontakt, Maschine, Komplete Kontrol, and Native Access are registered trademarks of Native Instruments GMBH. Steinberg,
Cubase, HALion, Halion Sonic SE, and VST are trademarks of Steinberg Media Technologies GmbH.
Bitwig is a trademark of Bitwig GmbH.
AKAI, MPC & Qlink are trademarks of Inmusic Brands Inc.
These trademarks are mentioned exclusively to identify compatibility with the respective companies' music production software and functionalities.
F9 Audio Ltd does not claim any affiliation or endorsement from Apple Inc, Steinberg Media Technologies GmbH, Native Instruments GMBH, Ableton AG, Bitwig GmbH, or Inmusic Brands Inc. The trademarks of these respective companies are used solely for the purpose of identifying compatibility with their music creation software.
References to other hardware devices or sub-brands on this page, including instruments and registered trademarks, are provided for descriptive purposes only. For instance, when referring to instrument brands and their associated trademarks, the intention is to describe the sound or instrument used in creating a specific sound or patch. F9 Audio Ltd does not maintain, nor does it claim, any association with or endorsement by these brands. Any goodwill connected to these brands lies with the brand owner.
To see this product's license agreement, click HERE