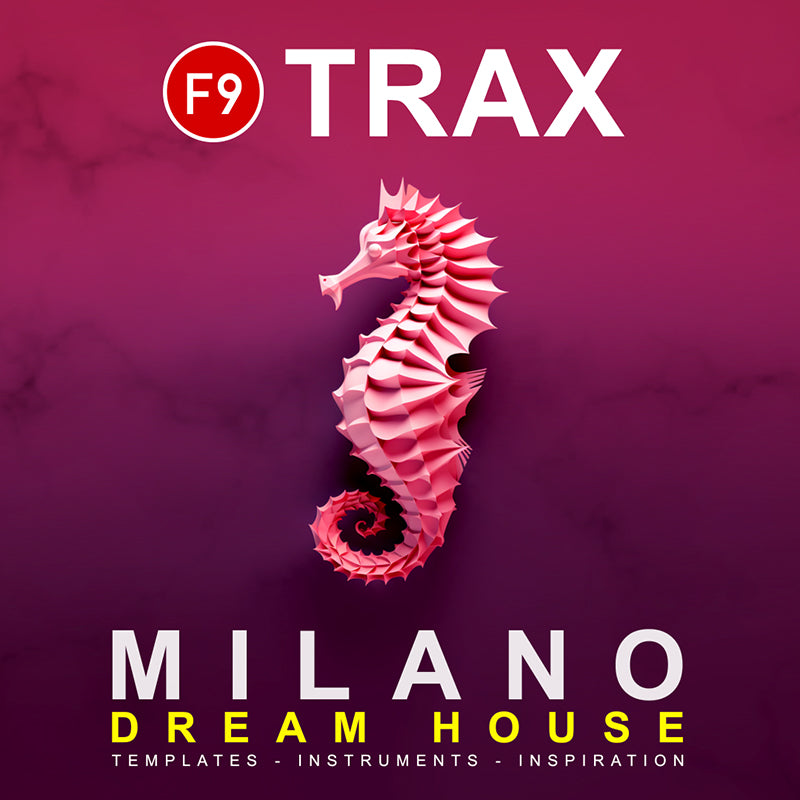 F9 TRAX Milano - Melodic / Dream House Template
CHOOSE YOUR FORMAT CAREFULLY
> All F9 digital products can be downloaded instantly after purchase
---
 Club Power Meets Emotional Melody. 
F9 TRAX Milano is an emotive and powerful journey through the stadium-inspired peak-show energy of the European-influenced melodic dance music that has returned to dance floors and festivals everywhere.
This TRAX solo edition takes our infamous template format to new heights with extraordinary detail in arrangement, melodic examples, sound library, mix sonics, and more.
F9 TRAX releases are designed for one purpose - To make your music better and we know they are the most advanced and useful DAW templates on the market.
The Music
F9 TRAX Milano is all about emotional music and uses a simple trick on the A minor scale - starting a chord sequence at a note lower than the root.
A Minor can be relatively light for club music, but by starting on the 6th degree of the scale (F and then falling to D before heading back up to an A) we create a really pleasing yet powerful emotive structure that will also deliver solid sub tones in a club with every round.
See all this, every melody and harmonic move and so much more by peaking deep inside the structure, midi and arrangement of this project.
See how we use alternating melodies, rhythms and instrumentation to build an arrangement that leads seamlessly from one movement to the next with breakdowns, builds, musical and sonic tension and release.
Then pull up our TRAX startup page that delivers not only the full drum and FX production but has the entire sound library set up and ready to go. This is what our TRAX users love the most - the ability to get inspiration down instantly instead of fussing through plugins and endless presets.
Stay on the creative side of your brain - It's where the magic happens.
The Sound Library
A tight and punchy kit fires the foundations out against 12-bit loops. Resampled breaks bring classic breakbeat rhythms to the breakdowns ( sampled through a vintage Akai S1100 - legendary for its handling of pitched-up drums). Granular and Spatial processed FX complete the picture.
A beautifully solid offbeat bass punches through the chords next to sizzling and arpeggiated 303-sampled patches.
We went deep into piano sampling for this release to create a patch that is designed from the ground up to cut a single note and atmospheric melody through a contemporary club production.
An additional 'Warm Piano' patch complements the beautiful and emotive pads and sharp JP8000 sampled synths and plucks.
F9 TRAX releases are designed for one purpose - To make your music better and we know they are the most advanced and useful DAW templates on the market. A super wide binaural patch from a UDO Super 6 brings a touch of modern class. 
"All of this for less than the price of a premium Sourdough Pizza "
Multi-Format Discount of 35% 
If you add more than 1 format of this release to your cart, an automatic discount of 35% will be applied to your order. 
Please note this offer only includes cart items of this release and remember the iPad edition is available in every format.  Your discount will show once you reach checkout and will not show in the cart. 
N.B - This offer cannot be combined with any other coupon. The ULTIMATE option is still the cheapest way to buy all main formats together. 
You can now use TRAX instruments to make sample packs 
It's with great pride we announce that from June 1, 2023, all F9 playable instruments and kits have been granted licenses for usage in the development of audio loops. These loops can be included in commercial sample packs designed for your personal use, your individual sampler store, or for third-party platforms such as Loopcloud, Splice, Arcade, NI sounds, and more. There's only one restriction to bear in mind: the midi. When creating for these releases, you must compose original musical or rhythmic parts and avoid using any midi or musical motifs from this or any other F9 release.  
This updated licensing term now encompasses stem creation and "track-outs," which are frequently seen in beat marketplaces. It also applies to ghost production and collaborative projects. Our goal is to provide you with even greater flexibility and creative potential in your music production endeavours.
5 Reasons to Use F9 TRAX in Logic, Ableton
1 - Endlessly Customisable
All main music parts in all F9 TRAX releases are generated by midi data playing multi-sampled instruments, kits and sound menus. This simple concept has led us to create the most useful and inspiring sample pack format in the industry today. Countless original tracks have been made by our customer base using our TRAX releases and they have become the most loved releases in F9's history. 
2 - The Sound Library 
Perfectly produced drum kits. bass patches created to work and socially mesh with the drums from the off. Synth, keyboard and FX sounds beautifully multi-sampled using our unique parallel processing sampling techniques. This patch collection not only arrives embedded in the projects, but also formatted perfectly for the library system of your DAW. The Logic pro this means logic patches that arrived with a full plug-in chain. Ableton users can enjoy a Full-fat collection of Ableton racks with 8 macros assigned. Bitwig devices with a full set of remote controls and processing chains. Any of which can be loaded into your own projects.
3 - No 3rd party plugins 
Unlike other template creators, our releases do not use any 3rd party plugins making them accessible to all producers running the DAW editions supported - this means no updates, no lost files and a future-proof investment. 
4 - Learning 
We can impart 20 tutorials worth of technique and knowledge inside every pack. Our community of producers have told us countless times just how much knowledge they've picked up by diving into the TRAX projects to see how we've set them up, how we've EQ'd and processed the elements and then bought them together in a working mix.
5 - Startups 
What started as a simple but brilliant idea from our customer base has become one of the most iconic and useful parts of our TRAX releases. F9 TRAX start-ups give you the full drum production of the main project but also preloads the entire sound library providing you with a project that is instantly inspiring. 
DAW Editions:
Each DAW edition comes with 2 projects, the Main production and a startup page that provides the full drum track and underneath the entire sound library pre-loaded and ready for use. Nearly all sounds are multi-sampled and fully playable giving you an amazing set of tools at this price point. 
WAV Edition:
For all other DAW users, we have added a WAV format that contains a complete stem run-out ( 50 Stems at 24bit 44.1Khz ) but all of the elements have been cut into loops. Midi files of all the main parts round the collection by giving you access to as many of the original parts as possible.
Session Notes and Manual:
Every TRAX release comes with session notes describing the production musically, technically, and stylistically. We are also very proud to offer the best manuals of any soundware company that include everything you need to know about installing and using your purchase.  

To read any of these, click on the artwork below to download the PDFs from this release:
Instant Download:
Like all F9 releases, a download link is available directly after checkout and is also emailed to the address provided during your order. If you create an account at F9 using the links at the top right of this page ( or through the 3 bars on a mobile device ) your downloads can be reached at any time in the future. 
We are proud to have resolved every customer issue regarding ordering at F9 since we started this family company in 2015 and continue exceptional levels of customer support, You can always reach us HERE 
Is there a catch? Only one, and its pure common sense and standard across this style of sample pack to protect all users: 
All the material in this pack is 'royalty-free'.  The supplied DAW demo arrangements remain the copyright of F9 Audio. Each user must make a new musical work by changing the page, midi notes, melodies, and adding your own sounds. This is simply to stop multiple users from making identical masters. 
Compatibility List:
Compatible with Logic Pro X 10.5.1. Onwards (including M1/2 and all modern OSX editions)
Compatible with all versions of Logic Pro for iPad
Compatible with Ableton 9.5 Onwards (Standard or Suite)
Compatible with Ableton 10 Onwards (Standard or Suite)
Compatible with Ableton 11 Onwards (Standard or Suite)
Compatible with Ableton 12 (Standard or Suite)
WAV edition is compatible with all DAWs and devices that support 24bit WAV files. 
---
Legal :
Logic Pro, Smart Controls, Apple Loops, EXS24, and Apple Silicon are trademarks of Apple Inc.
Ableton, Live Pack, and Live Racks are trademarks of Ableton AG.
Kontakt, Maschine, Komplete Kontrol, and Native Access are registered trademarks of Native Instruments GMBH. Steinberg,
Cubase, HALion, Halion Sonic SE, and VST are trademarks of Steinberg Media Technologies GmbH.
Bitwig is a trademark of Bitwig GmbH.
AKAI, MPC & Qlink are trademarks of Inmusic Brands Inc.
These trademarks are mentioned exclusively to identify compatibility with the respective companies' music production software and functionalities.
F9 Audio Ltd does not claim any affiliation or endorsement from Apple Inc, Steinberg Media Technologies GmbH, Native Instruments GMBH, Ableton AG, Bitwig GmbH, or Inmusic Brands Inc. The trademarks of these respective companies are used solely for the purpose of identifying compatibility with their music creation software.
References to other hardware devices or sub-brands on this page, including instruments and registered trademarks, are provided for descriptive purposes only. For instance, when referring to instrument brands and their associated trademarks, the intention is to describe the sound or instrument used in creating a specific sound or patch. F9 Audio Ltd does not maintain, nor does it claim, any association with or endorsement by these brands. Any goodwill connected to these brands lies with the brand owner.
To see this product's license agreement, click HERE