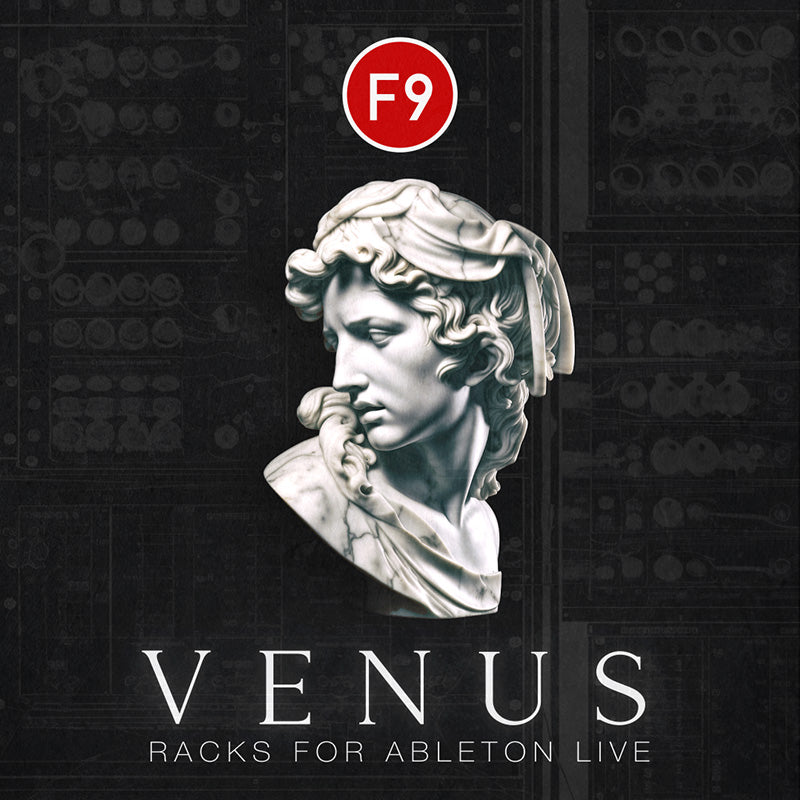 F9 Venus Racks for Ableton Live V11 onwards
CHOOSE YOUR FORMAT CAREFULLY
> All F9 digital products can be downloaded instantly after purchase
---
Produce Faster, Harder, Stronger 

Unleash the true power of Ableton with F9 Venus processing and instruments racks for Live V11.2 onwards (Standard or Suite) 
Our original F9 racks release has become a high watermark for this indie company selling more units than any other F9 release to date. This groundbreaking release garnered immense acclaim from professional producers, sound engineers, and artists across the world. 

Live 11 completely changed the game by elevating Ableton's macro system with a much-requested 16 macros. This update also introduced macro variation storage slots, which function similarly to presets, offering an intuitive way to save and recall configurations. Plus, with the newly added capability for controlled randomisations, this software takes the much-loved Ableton rack system to brand new heights, and F9 Venus racks take full advantage of all this power.
But this is only part of the story. The native inclusion of LFOs, volume-triggered envelopes and user-defined shaper curves in both Standard and Suite editions opened up an entirely new world of processing possibilities that were previously only available in 3rd party plugins. 

Inside F9 Venus racks you will not only find our legendary multi-layered creative processes but dynamically triggered EQs, Lo-fi Wow and Flutter effect, sidechaining racks, trance gates and much more. 
"For me, the worth of any production tool is nearly always measured by how often I  return to it. Having worked so closely and intensely on this release for months, I was overjoyed to see just how damn useful and powerful these racks are "  


James Wiltshire F9 Audio / Freemasons (Artist) 
F9 Venus for Ableton contains: 
31 Main Processing Racks
18 Bonus and Utility Racks
21st Century Bass II Rack 
MiniM Mono and Poly Instrument racks*
6 One Knob Processing racks 
 * These instrument racks contain the fully multi-sampled waveforms of the world's most famous 3 oscillator analogue synth. All were captured through an Analog Designs RED-DI via an Apogee Symphony at 96Khz. 
5 Reasons to Use F9 Venus Racks: 
1 - Streamlined Workflow  
With the F9 Venus racks, the tedious process of manually configuring intricate chains of effects or instruments is a thing of the past. These racks readily load onto any audio or instrument track, offering you immediate access to expertly crafted sound processing chains. These rival some of the best plugins in the market, but at just a fraction of the price.
2 - Sonic Capabilities  
We have meticulously explored every facet of Ableton Standard and Suite, extensively utilising multi-band and parallel processing, the new LFO, Shaper, and envelope-triggering modulation generators. and rounded up the very best and most effective controls with the new 16 Macro controls. 
The result is a collection of processes specifically designed to meet the rigorous demands of cutting-edge production. Each rack's built-in collection of variations (presets) illustrates the vast array of sounds and processes at your disposal. We're confident these racks are peerless in the market.
3 - Learning Experience  
We urge all users to delve into these racks' architecture, absorbing the strategies and techniques implemented therein. Ableton's integration of parallel and multi-layered racking, along with the 16 macros and variation slots, is unparalleled in any other DAW. Discover how to construct your own intricate processes leveraging the raw power of Ableton's racking and macro-mapping functionality.
4 - Time Saving 
The F9 Venus processing and instrument racks are a true time-saver. Instead of tediously searching for the perfect sound or effect, simply load a rack, choose a variation as your starting point, and adjust it to your taste. Save and name the variation and continue. All this occurs within the familiar Ableton environment and GUI, keeping you in your creative flow without needing to navigate another GUI or plugin interface. This allows for more time spent on creativity and less time switching to the technical part of your brain.
5 - Future-Proofing  
Over the years, Ableton has made considerable efforts to ensure backward compatibility of their native plugins. You can confidently use these racks, knowing that even years later, you can open a project using them in future Ableton versions without any need for updates of playback issues.
The full list of racks in this release: 
1 - F9 Venus Main Processing Racks 
F9 Venus Bass Deluxe
F9 Venus Better Box
F9 Venus Biased Bass Driver
F9 Venus Biased Harmonix
F9 Venus Clap Rack
F9 Venus Dante's Reverb
F9 Venus Delay Rack
F9 Venus Drum Bus Ambience
F9 Venus Drum Bus Selector
F9 Venus Drum Buss
F9 Venus Dynamic EQ
F9 Venus Dynamic Passive EQ
F9 Venus Gater-Aide
F9 Venus Hi Hat Rack
F9 Venus Kick Rack
F9 Venus Live Bass Rack
F9 Venus Lofi Palette
F9 Venus Magneto Tape FX
F9 Venus Modulation Selector
F9 Venus Multiband Reverb
F9 Venus Nebula Reverb
F9 Venus Old Timer Modulation
F9 Venus Parallel EQ 8200
F9 Venus Piano Rack
F9 Venus Sidechain Selector
F9 Venus Snare Rack
F9 Venus Synth & Lead Rack
F9 Venus Synth Bass Rack
F9 Venus Treble Processor
F9 Venus Tri-Band Driver
F9 Venus Vocal Rack
2 - F9 Venus 1-Knob Racks ( perfect for transitions ) 
F9 Venus Break-Down Filter
F9 Venus FALL! 1
F9 Venus FALL! 2
F9 Venus RISE! 1
F9 Venus RISE! 2
3 - F9 Venus Instruments
 F9 Venus 21st Century Bass
F9 Venus Mini_M Synthwave Bass
F9 Venus Mini_M Poly
F9 Venus Mini_M Mono
F9 Venus Vintage Sampler
4 - F9 Venus Sub Racks (smaller/utility racks) 
F9 4-4 De-Bass
F9 Clipper HD (+Gain)
F9 Clipper HD (Unity)
F9 Clipper (+Gain)
F9 Clipper (Unity)
F9 Delay Selector
F9 Venus Downer
F9 Filter Kick Remove
F9 Headroom EXT FX Rack
F9 Headroom FX Rack
F9 LF Extender
F9 Low Bit Bite
F9 Pusher Man
F9 Splitter Dual Band
F9 Splitter Tri-Band
F9 Tape Style HF Soften
F9 Venus 1 Band Upwards
F9 Venus 24Db Filters
F9 Venus Analog 24Db Filters
5 - F9 Venus Suite Racks 
F9 Venus Clap Deluxe (Suite Only)
F9 Venus Kick Rumble ( Suite Only )
F9 Venus Snare Deluxe ( Suite Only )
F9 Venus Transient Soup ( Suite Only )
---------------------------- 
Compatibility List 
Compatible with Ableton Live Standard V11.2 onwards 

Compatible with Ableton Live Suite V11.2 onwards 

Compatible with Ableton 12 
Please note:  This product is not compatible with Live Intro. 
---
Legal :
Logic Pro, Smart Controls, Apple Loops, EXS24, and Apple Silicon are trademarks of Apple Inc.
Ableton, Live Pack, and Live Racks are trademarks of Ableton AG.
Kontakt, Maschine, Komplete Kontrol, and Native Access are registered trademarks of Native Instruments GMBH. Steinberg,
Cubase, HALion, Halion Sonic SE, and VST are trademarks of Steinberg Media Technologies GmbH.
Bitwig is a trademark of Bitwig GmbH.
AKAI, MPC & Qlink are trademarks of Inmusic Brands Inc.
These trademarks are mentioned exclusively to identify compatibility with the respective companies' music production software and functionalities.
F9 Audio Ltd does not claim any affiliation or endorsement from Apple Inc, Steinberg Media Technologies GmbH, Native Instruments GMBH, Ableton AG, Bitwig GmbH, or Inmusic Brands Inc. The trademarks of these respective companies are used solely for the purpose of identifying compatibility with their music creation software.
References to other hardware devices or sub-brands on this page, including instruments and registered trademarks, are provided for descriptive purposes only. For instance, when referring to instrument brands and their associated trademarks, the intention is to describe the sound or instrument used in creating a specific sound or patch. F9 Audio Ltd does not maintain, nor does it claim, any association with or endorsement by these brands. Any goodwill connected to these brands lies with the brand owner.
To see this product's license agreement, click HERE