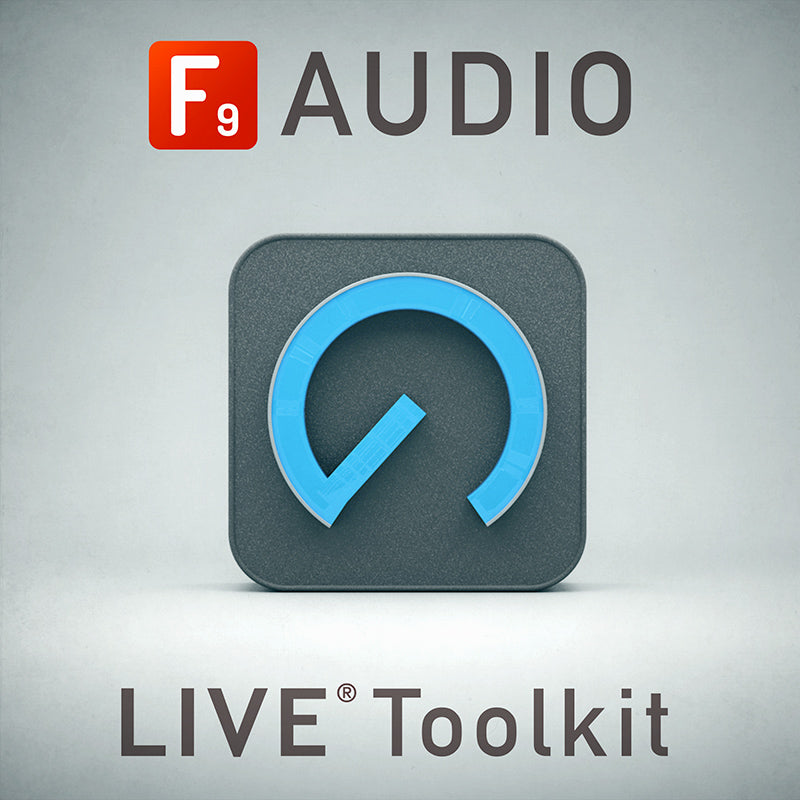 F9 Toolkit for Ableton Live 9-12
CHOOSE YOUR FORMAT CAREFULLY
> All F9 digital products can be downloaded instantly after purchase
---
A 5GB Sound Library for Ableton. Loved by our users
F9's Toolkit is a 5Gb Multi-genre library for Ableton live 9.1 onwards (including Live 10,11 & 12). It works with Live Standard and Suite on PC or Mac. Everything is self-contained, easy to load and built inside Ableton's racking system.
269 Brand new Multi-sampled instruments and Sound menus have been captured using the techniques, world-class hardware and technology that has made F9 renowned in terms of sonics and trusted by professional producers, screenwriters and artists.
The DELUXE edition contains every project used to create the individual genre demos as well as 9 Startup pages across many styles pre-loaded with sounds and inspiration.
The F9 preview system

allows you to hear the patch playing back a demo midi file before you drop it into your session. you can even use the demo part as a live clip.
F9's Toolkit

 

is created by producers for Live users at every level. See how powerful your Ableton system can be when it's fed the right sounds. 

'It's beyond amazing - Instant Inspiration' - Steve Anderson...
F9 Toolkit Standard edition:

5GB+ Multi-sampled instruments and sound menus 
269 Live racks with Macro Controls 
Blank Startup page pre-loaded with 70 + instruments
F9 Toolkit Deluxe  edition:

5GB+ Multi-sampled instruments and sound menus 
269 Live racks with Macro Controls 
6 Full Live project arrangement** pages of the main audio demos with all midi and mixing/production tricks on show 
8 Startup pages across many genres with style-starter beats and instruments already set up in the arrange page
'As soon as I saw the demo I was sold...I just installed it last night and thanks to F9 I now more about how to use Live then ever before...Great stuff '- David USA 
System requirements: 
At least 15gb free space for download and decompression - (Download .zip is 4.2 Gb)

Ableton Live 9, Live 10, Live 11 & 12 (Standard or Suite editions) 
"The F9 toolbox is one of the best ideas to come out of the soundware market. It has successfully delivered the sounds of essential drums, bass, and synths that are so often searched for through endless YouTube geek tutorials. The sonics are powerful and all contained within a safe audio spectrum. The magic is a page full of ready-made gorgeous sounds via the sampler without having to fire up the big synths. The serious producer can get straight down to work and quickly create. Essential stuff" - Pete Heyward - Goloka
All audio demos are 100% F9 Toolkit for Ableton - Only 1 instance of Ozone has been used for mastering purposes  
Compatibility List: 
Compatible with Ableton 9.5 Onwards (Standard or Suite)

Compatible with Ableton 10 Onwards (Standard or Suite)
Compatible with Ableton 11 Onwards (Standard or Suite)
Compatible with Ableton 12 (Standard or Suite)
---
Legal :
Logic Pro, Smart Controls, Apple Loops, EXS24, and Apple Silicon are trademarks of Apple Inc.
Ableton, Live Pack, and Live Racks are trademarks of Ableton AG.
Kontakt, Maschine, Komplete Kontrol, and Native Access are registered trademarks of Native Instruments GMBH. Steinberg,
Cubase, HALion, Halion Sonic SE, and VST are trademarks of Steinberg Media Technologies GmbH.
Bitwig is a trademark of Bitwig GmbH.
AKAI, MPC & Qlink are trademarks of Inmusic Brands Inc.
These trademarks are mentioned exclusively to identify compatibility with the respective companies' music production software and functionalities.
F9 Audio Ltd does not claim any affiliation or endorsement from Apple Inc, Steinberg Media Technologies GmbH, Native Instruments GMBH, Ableton AG, Bitwig GmbH, or Inmusic Brands Inc. The trademarks of these respective companies are used solely for the purpose of identifying compatibility with their music creation software.
References to other hardware devices or sub-brands on this page, including instruments and registered trademarks, are provided for descriptive purposes only. For instance, when referring to instrument brands and their associated trademarks, the intention is to describe the sound or instrument used in creating a specific sound or patch. F9 Audio Ltd does not maintain, nor does it claim, any association with or endorsement by these brands. Any goodwill connected to these brands lies with the brand owner.
To see this product's license agreement, click HERE