F9 Electric Funk Instruments & Multisamples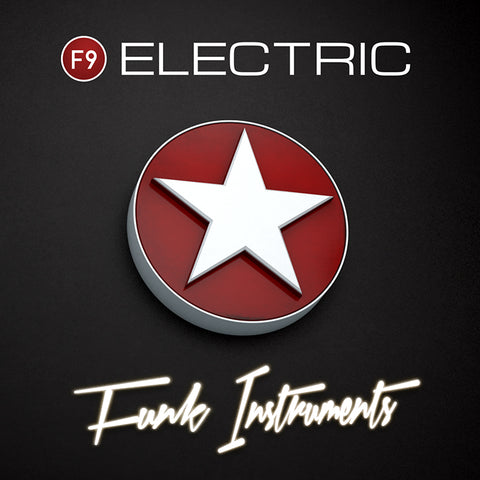 128+ Multi sampled Funk Instruments 
Ever since the release of Electric Funk so many of you have asked when will we be releasing a pack of playable funk instruments.  
We are very proud to present 128 exceptionally playable instruments that run using native Logic & Ableton DAW samplers and Kontakt**. This collection is our homage to an era of music that shaped electronic club music for decades.
The only way to get the truly authentic tones of the electro-funk explosion that dominated mid 80s club and R+B chart-toppers was to sample the original hardware. That's exactly what we did here but with the 21st-century sonics that F9 is infamous for. 
This pack contains:
20 Analog Basses ( with Round-Robin sampling ) 

15 Digital Basses

22 Key Patches

15 Lead Patches

29 Sequence, Plucks and sampled hit patches

20 Analog Poly-Synths

10 Digital Poly Synths
The original machines that made the funk :
For this set of instruments, we meticulously sampled basses, leads, pads, and polysynths from the original 80's legends -
Jupiter 8,

OBX-A,

Prophet 600,

Minimoog

Prophet 5

Juno 60

Sequential Prophet VS

Ensoniq Mirage

EMU Systems Emax I ( analog filters ) 

Oberheim DPX-1 ( 8 /12bit sample player with analog filters ) 

Yamaha DX7 IIFD

Yamaha TX 802

Yamaha TX 81Z
Snapping at the heals of those famously wandering analog oscillators were 2 fledgling technologies - Digital Synthesis and Sampling.
Imagine for a moment being a producer of that era. Every week a new device would spring up and offer a palette of sound never imagined let alone heard before. We want to deliver that feeling directly into your DAW 
The metallic overtones of the freshly sewn FM synthesis revolution collided with the traditional analog aesthetic for the first time in this era to create something truly unique. As you can hear from the demos it's as if these two technologies were always meant to be perfect bedfellows.
Sampling had already made its way into the infamous drum machines of the day but now finally, the first sampling keyboards were in the hands of producers - their flawed and grainy 8 or 12bit output creating a thickness and power all of their own. We have been amazed on this sampling journey to find out just how good these 30-year-old devices sound - and how often as contemporary producers we often chase a sound that you can get everytime you boot up a floppy in old Mirage, Emax, EII or Sequential Circuits sampler. 
Audio Hardware used during the capturing of this packs' material :
Neve 1081 EQ / Preamp

Neve 33135 EQ / Preamp

API 512 Preamp

API 527 Compressors

SSL XR 627 VHD Pre

Erickson Montessi Gold preamp

SSL 727 Xrack Stereo EQ 

SSL 728 Xrack Stereo Dynamics

GML 8900 Dynamic Gain Controller 

GML 8200 EQ

Thermionic Culture Vulture +15 / Rooster

Kush Audio UBK

Chandler Lil Devil EQ

Elektron Analog Heat

Apogee Symphony I/O 
Having the raw sounds is one thing - transferring them into playable and usable patches is another.  We are always being told by our customers that our sampler patches end up being used over our competitors in their day to day sessions. 
We believe this is because we approach this as producers ourselves, not sound designers. I cannot begin to tell you how passionate we are about the authenticity and strength of sound we strive for in every patch.
One of the upsides of running a sound design company is we get to use all the amazing things we make and means we have an ( almost selfish ) obsession to make everything we do work inside a 21st-century production 
Not everything can take up a ton of room inside a track, some sounds need to be thin, other's fat and wide. Sometimes you need wandering pitches to swirl the sounds around and sometimes you need pure tones. We take pride in the fact that every F9 patch-based release ends up as a set of tools specific to that job.
All of this starts with the recording. sampled through the very highest quality Preamps ( NEVE, API, Erickson Montessi and Thermionic Culture). Everything is processed with the end result in mind ( via the best analog hardware possible ) during a process we have perfected over the last 5 years. This makes our sounds 'pop' as you can hear from the bare audio demos. 
Compatibility List: 
This collection is Compatible with
Logic Pro X

( all versions via EXS24 / Sampler+ Channel strips )  M1 Compatible

Ableton Live 9.1+

(

including

Live 10 and 11

) Suite or Standard edition *

Kontakt 5.8.1+

( full version required ) **
* Please note this release will not work in Live Intro or Live Lite

** Please note - Kontakt support is for a full copy of Kontakt and will not work with the free Kontakt player. This library will not use serials or Kontakt's 'library' browser tab. For more information on using 'unlocked' Kontakt libraries please see this video

The audio demos contain additonal drum and fx sounds not included in the package  ( sourced from Electric Funk , F9 Toolkit , F9 TRAX beach house and F9 TRAX Electric Disco ) . All musical parts in the audio demos were created using the instruments of this release triggered from midi via native DAW samplers or Kontakt 

 


Legal information : 
Logic Pro, Smart controls, Apple loops and EXS24 are trademarks of Apple Inc. F9 Is not affliliated or endorsed by Apple in any way, and its trademarks are only used to show compatibility with Apple's Logic Pro Software.

Ableton, Live Pack, Live Racks are trademarks of Ableton AG. 

All additional product and company names including trademarks™ or registered® trademarks are included for descriptive or illustrative purposes only. F9 Audio does not have or claim to have any affiliation or endorsement with these external brands. Any goodwill attached to those brands rests with the brand owner.

 



All specifications are subject to change without notice.

To see this product's license agreement, click HERE