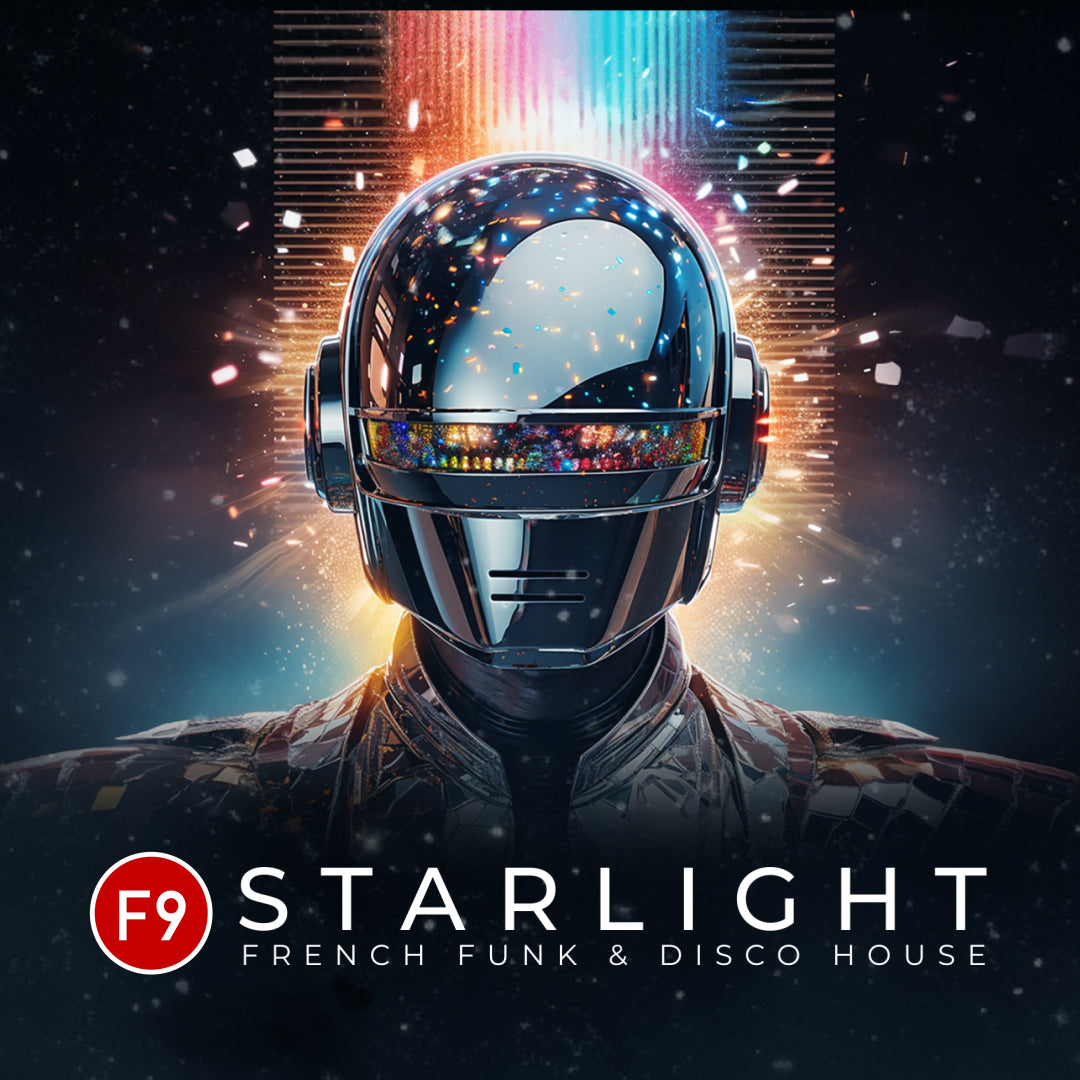 F9 Starlight: French and Disco House
CHOOSE YOUR FORMAT CAREFULLY
> All F9 digital products can be downloaded instantly after purchase
---
F9's Epic Journey into French and Disco House. 
We are immensely proud to present F9 Starlight, an extraordinary journey through everybody's favorite form of funk-based house, music - French, and Disco house. 
This pack ended up being twice the size we expected as we just could not stop adding more elements. The production process was joyous as was the mixing and formatting. 
Our mission is not just to inspire with this release, but to educate too. As always at F9, we went back to the original hardware and techniques used throughout the time when Parisian funk and sampled disco strings ruled, not only radio airwaves but the subsonic reverberations of the world's club systems. 
If you've ever wondered what elements make up the house that Funk built then look no further. 
In the comfort of your own DAW and studio space you can investigate and tear down then rebuild this incredible collection of lovingly prepared, stems, music, and funk.
Carefully formatted to give every producer maximum flexibility and inspiration. This pack excels. The core stem sets have been precisely cut into loops (and not just one or two bar loops but truly useful audio ) as well as over 1800 one-shot samples covering everything from the rhythm section, right up to the electric piano chords and bass parts.  
All of these one-shots were then made available as sound menus for our principal sampler formats, including the free MPC Beats format, and Steinberg's FREE Halion Sonic SE.
Midi files are a vital part of modern production. And yes, in this release, every musical part, we could has been made available as midi. We have also organized the midi files twice - Once per instrument and once per stem project. 
F9 Starlight Includes:
5.3Gb of Main Stem Multitrack Audio.
15 Main Stem sets
345 Drums and FX Loops
410 Musical Loops
479 Drum and FX sounds 
227 Midi files
1850+ Individual One Shots
14 Drum Shot Menus
34 Melodic and Musical Sound menus Available as
Kontakt 5.8.1 Library *
Ableton Racks

Live 9.5,10,11 & 12 Standard or Suite

Logic Pro X Library

Based around EXS24/ Sampler / Logic patches

Halion Sonic SE Library

(Halion SE available FREE from  

Steinberg

)

* Please note - the Kontakt Portion of this library requires a fully paid install of Kontakt and will not work with the free Kontakt Player edition 
The list of Hardware used during the recording of this release:
EMU SP1200, Akai S612, MPC 3000, S1100, S950. MCF42 Analog Stereo Filter, Korg DSM-1, Ensoniq Mirage, Roland JX8P, Juno 106, Juno 60, MC 505, VP900, V-synth GT, TR909, TR606, VC330. Various Erica Drum synth Modules, Fender Rhodes, Fender Hardtail Stratocaster, Rhodes 73 MKII, Pioneer Toraiz SP-16, Minimoog re-issue, Arturia Polybrute, Linndrum, MXR Pedals, Boss Pedals, Sequential Prophet 5, Neve 33135 EQs, HCL Solution Valve limiter, Small Stone phaser, Evetide H3000, GML 8900, GML 8200, API 512 Pres, Chandler Lil Devil EQs, API 550 EQ, Overstayer Modular Chanel, Ensoniq DP2 ( THAT phaser ), Lexicon 300. SSL SL400G 48 Channel console, Prism Maselec EQ, Black Box HG2, AMS RMX 16, Bricasti M7, Empirical Labs Distressor EL8S (with brit mod),  UTA Unfairchild 670 Mk ii, Universal Audio 1176 LN, 10X Vintage Calrec EQs and preamps, Klementz Stereo dub delay. 
 ------------------------------------------------------------------------
A new height in sample pack mixing…
The best decision we made for this pack was to take it up to an SSL studio in London - Westpoint Studios 
Not only is the room acoustic excellent thanks to the recording architecture design, but the raw power of the magnificent console installed - the SL 4000 G series works extraordinarily well on house music. 
SSLs of this golden era have weight and clarity that is perfect for this style of mixing. Phillipe Zdar, famous for his work at Motorbass Studios and Cassius in Paris famously used an SL 4000 E series in nearly all of his work, mixing as if the desk were an instrument itself.
Not only did Westpoint provide ample desk real estate, but the outboard collection is exceptional. We employed everything from a Briscati M7, Black Box HG2, Prism Maslec EQ, AMS reverbs, and a fantastic Fairchild recreation setup for the drums in a parallel configuration.  
-------
Compatibility List:
The main portion of this pack (WAV Stems, loops, and hits) is compatible with all DAWs and devices that support 24-bit, 44.1Khz WAV files.
This pack is just over 11GB when unpacked. The zip file is 8GB, please allow at least 25GB on your drive for download and decompression. 
Sample Patches Compatible With:
Logic Pro X 10.2.8. Onwards (including M1/2 and all modern OSX editions)
Ableton 9.5 Onwards (Standard or Suite)
Ableton 10 Onwards (Standard or Suite)
Ableton 11 Onwards (Standard or Suite)
Compatible with Ableton 12 (Standard or Suite)
Bitwig 4.4 onwards 
Kontakt 5.8.1 Onwards (Full version required) 
MPC V2.12 software (including MPC beats), all standalone MPC editions, and Akai Force 
Halion Sonic SE 3 Onwards
---
Legal :
Logic Pro, Smart Controls, Apple Loops, EXS24, and Apple Silicon are trademarks of Apple Inc.
Ableton, Live Pack, and Live Racks are trademarks of Ableton AG.
Kontakt, Maschine, Komplete Kontrol, and Native Access are registered trademarks of Native Instruments GMBH. Steinberg,
Cubase, HALion, Halion Sonic SE, and VST are trademarks of Steinberg Media Technologies GmbH.
Bitwig is a trademark of Bitwig GmbH.
AKAI, MPC & Qlink are trademarks of Inmusic Brands Inc.
These trademarks are mentioned exclusively to identify compatibility with the respective companies' music production software and functionalities.
F9 Audio Ltd does not claim any affiliation or endorsement from Apple Inc, Steinberg Media Technologies GmbH, Native Instruments GMBH, Ableton AG, Bitwig GmbH, or Inmusic Brands Inc. The trademarks of these respective companies are used solely for the purpose of identifying compatibility with their music creation software.
References to other hardware devices or sub-brands on this page, including instruments and registered trademarks, are provided for descriptive purposes only. For instance, when referring to instrument brands and their associated trademarks, the intention is to describe the sound or instrument used in creating a specific sound or patch. F9 Audio Ltd does not maintain, nor does it claim, any association with or endorsement by these brands. Any goodwill connected to these brands lies with the brand owner.
To see this product's license agreement, click HERE