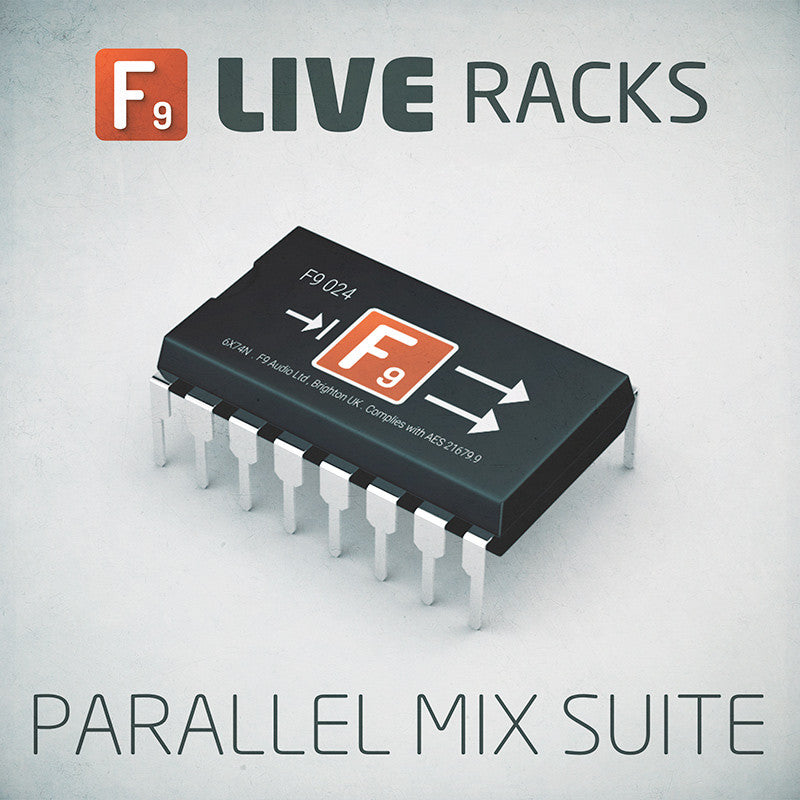 LIVE RACKS : Parallel Suite
CHOOSE YOUR FORMAT CAREFULLY
> All F9 digital products can be downloaded instantly after purchase
---
Mix Faster, Better, Harder, Stronger With F9 Racks

Just Awarded 9/10 in Music Tech Magazine
Modern production and mixing is all about pushing things to the edge and controlled distortion. Parallel processing offers a near-perfect method to reach the sounds of the professionals as it often leaves the original source untouched whilst adding enormous weight, power, and front.
Works with Ableton 9,10,11 & 12 (Standard or Suite) 
Watch the Video Walkthrough here: 
Ableton Live offers it's users a unique approach to effect building using the rack system and F9's founder James Wiltshire is now well known as parallel processing evangelist & guru from his various tutorial videos for software house, educational facilities, and magazines. Having mixed literally hundreds of records including multiple international number 1's James has developed parallel techniques that have transferred Ableton perfectly and we believe are second to none.
We've also tried to keep as many of the macro names descriptive and emotive rather than technical wherever possible.
This exceptional suite of tools is a carefully distilled and hand-tuned set of tools from James' personal collection designed to achieve pro-level results without a single 3rd party plugin. Many Swiss army knife tools exist in the collection as well as focused and job-specific racks as well as treats such as the instant classic - Parallel Equaliser.
F9 is as much about education as the sound and we've included all the building blocks from this modular collection so you can tear down the devices in a much simpler form learn how to build your own parallel channels with Macro controls
See more by downloading the full manuals HERE 
The full list of racks in this release:
Parallel Equalizer ( X4)
NYC Compression
2 Band Passive EQ
Vintage Vibes
Bass sonics
Parallel distortion
Space and time
Stem Multi Knife
Full Fat channel
Kick Sonics
Drum Sonics
Drums sonics B ( Multiband )
Drum FX
Vocal Sonics
Vocal FX
Vocal Modulation
Utility : filters
Utility : External input drive
Utility : Better Box
These racks require Live 9.5 to use the new filter algorithms. The main racks will work in both Standard and Suite editions.
INSTRUMENTS:
But that's not all. As a taster of an immense set of Ableton rack instruments coming late this we we have added the following Bonus content:
Analog bass Heaven - One set of controls - 16 Different Analog multisample Waveform set from a Minimoog Jupiter 4 and an MKS80 allow you to create everything from fat mono solid tech and house bases to swirling Analog 16 voice Reese's stopping off in-between for pure 80's future retro funk. New techniques mean no machine gunning - every note is slightly different.
808 designer - Chromatic patches over 2 octaves that allow you to choose 12 different sub-bodies (from sampled vintage analogue to cutting edge digital sources) with 12 different clicks to finally sculpt an 808 perfect for your production. Harmonic. lower mid and tape-style limiting add to the flavour and these are never over-processed allowing you to abuse the near-erect sub-bass source as you wish.
Analog Pad Heaven - One set of controls - 11 different multi-sampled analogue waveform sets from a Jupiter 8, Prophet 6, Juno 60, and a Yamaha CS 60 give you the ultimate swirl and lush sonics. New techniques mean every note is slightly different.
21st Century Bass - Choose any of the 12 sub-elements then layer any of the 8 Low mid-chunk basses, 8 Mallet sets, and 8 Fried top layers for an ultimate contemporary bass - Thousands of possible combinations!
+ updated versions of our now famous Trinity Drum kits with arpeggiated 808 hats, snares, and a new 909 kick drum
Technical Specs 
7 Eq & Dynamics Racks
3 Vocal racks
2 Channel and Stem Racks
2 General purpose racks
3 Drum Processing Racks
1 Kick Processing rack
2 Bass Processing Racks
2 Utility Racks
3 TRINITY Drum Kit Racks
69 Sub racks (Building Blocks)
54 Sampler Patches (Suite only)
Compatibility List:
Compatible with Ableton 9.5 Onwards (Standard or Suite)
Compatible with Ableton 10 Onwards (Standard or Suite)
Compatible with Ableton 11 Onwards (Standard or Suite)
Compatible with Ableton 12 (Standard or Suite)
Legal information: 
Ableton, Live Pack, Live Racks are trademarks of Ableton AG. 

All additional product and company names including trademarks™ or registered® trademarks are included for descriptive or illustrative purposes only. F9 Audio does not have or claim to have any affiliation or endorsement with these external brands. Any goodwill attached to those brands rests with the brand owner.

 



All specifications are subject to change without notice.

To see this product's license agreement, click HERE
---
Legal :
Logic Pro, Smart Controls, Apple Loops, EXS24, and Apple Silicon are trademarks of Apple Inc.
Ableton, Live Pack, and Live Racks are trademarks of Ableton AG.
Kontakt, Maschine, Komplete Kontrol, and Native Access are registered trademarks of Native Instruments GMBH. Steinberg,
Cubase, HALion, Halion Sonic SE, and VST are trademarks of Steinberg Media Technologies GmbH.
Bitwig is a trademark of Bitwig GmbH.
AKAI, MPC & Qlink are trademarks of Inmusic Brands Inc.
These trademarks are mentioned exclusively to identify compatibility with the respective companies' music production software and functionalities.
F9 Audio Ltd does not claim any affiliation or endorsement from Apple Inc, Steinberg Media Technologies GmbH, Native Instruments GMBH, Ableton AG, Bitwig GmbH, or Inmusic Brands Inc. The trademarks of these respective companies are used solely for the purpose of identifying compatibility with their music creation software.
References to other hardware devices or sub-brands on this page, including instruments and registered trademarks, are provided for descriptive purposes only. For instance, when referring to instrument brands and their associated trademarks, the intention is to describe the sound or instrument used in creating a specific sound or patch. F9 Audio Ltd does not maintain, nor does it claim, any association with or endorsement by these brands. Any goodwill connected to these brands lies with the brand owner.
To see this product's license agreement, click HERE