F9 Patches
Future Classic
Vol1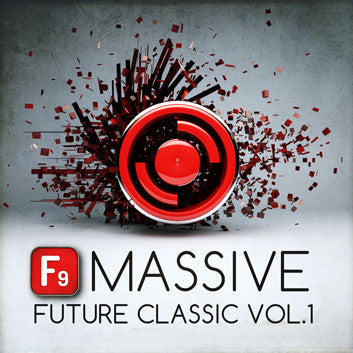 F9 Patches Massive Future Classic Vol1
One of the finest Massive House preset banks ever made
Also Includes Free F9 Taster pack
Download a Free taster pack here 
If you Lust over a patch collection that will cover a whole host of Club and electronica Genres then look no further  - F9 Audio proudly presents Massive : Future Classic. 

145 hand-tweaked Massive patches make up this colossal collection and come with all Macro controls applied and all tags in place. We hope this collection will be a first call for years to come as it can skip between Deep,Classic and Future House, Tech, Electro soul Nu disco and even pure 80's synth pop with ease . All sounds have been lovingly prepared over many months of painstaking work and all patches are level matched so they wont take you speaker cones out whilst browsing !

Analogue theory for a digital world : As we dug into Massive over the years we found a way to emulate certain analogue characteristics using random waves and tiny amounts of LFO modulation making many of these sounds the fattest in their class . Instead of coded and confusing Macro names we found that using descriptive terms wherever possible makes using the patches a joy. Some macro controls are subtle - Others so Twisted that you can you can create entirely new patches in seconds . 

Dive into the heart of this pack and you will find a huge selection of incredibly solid Basses (many with Contemporary FM modulations ) - The lushest set of pads seen in a massive pack- Leads that range from classic Analogue gooeyness to Formant Vocaolid screamers right through to Post-EDM detuned porta-glides - a Stack of HUGE FX and synth pop drum sounds that are literally plug and play and enough Keyboard, Synth and pluck sounds to keep you busy for months warrant a pack of their own ! 
145 Massive patches
All Macros activated
All database tags applied 
Free F9 Audio Taster pack 
31 Midi files 
Level matched
PDF manual 
41 Bass Sounds
20 Drum and FX sounds
21 Keyboard and Chord Sounds
16 Lead Sounds
14 Lush Pads 
8 Huge Plucks
25 Synth and Arp Patches
Legal information :   
Logic Pro, Smart controls, Apple loops and EXS24 are trademarks of Apple Inc. F9 Is not affliliated or endorsed by Apple in any way, and its trademarks are only used to show compatibility with Apple's Logic Pro Software.

Ableton, Live Pack, Live Racks are trademarks of Ableton AG. 

Steinberg, Cubase , Haiion Halion SE, vstsound and VST are Trademarks of Steinberg Media Technologies GmbH

Studio One, Presence XT and Audioloop are Trademarks of PreSonus Audio Electronics, Inc.. F9 Is not endorsed or affiliated with Presonus, Its trademark is used solely to identify compatibility with Presonus's Studio One software and its functionality.

All additional product and company names including trademarks™ or registered® trademarks are included for descriptive or illustrative purposes only. F9 Audio does not have or claim to have any affiliation or endorsement with these external brands. Any goodwill attached to those brands rests with the brand owner.

 



All specifications are subject to change without notice.      
To see this product's license agreement, click HERE
In-Depth
Massive is the synth that has played the Requiem of modern club productions. This genre defining synth is still holding its own and has already earned its place in production history. Now, we've stretched it to its limits at F9 Studios, to bring you 144 of the very finest Future and Classic House patches currently available. With classic and contemporary club styles finally coming together, and the resurgence of hardware in the production chain, we went back to basics with Massive's oscillators filters and routings, and spent months developing a bank of sounds capable of creating the next generation of club classics. Inside you'll find a huge range of basses covering the big, percussive-edged sounds currently at the top of the club charts, to solid Deep House analogue-esque tones, French-inspired Vocal Funk and Rumbling Reece. There are also enough drums and FX to complete a full rhythm bed and a batch of sequences and chords for instant inspiration. Finish off with a searing digital or analogue style lead, perfectly processed to cut through your mix. We've all heard the dark and digital end of Massive. We wanted to bring out the warmth in this synth and our huge range of keys, pads, synths and plucks, have been lovingly crafted to show just how fat and quasi-analogue this synth can sound. F9's 15 years experience with the cream of synthesizer technology and sound design, has led to a patch bank you will come back to for years. All patches have been hand-tweaked and level matched by Grammy-nominated producer, James Wiltshire of Freemasons, to ensure they easily slot into your production frameworks. A mixing and production veteran, James also presents a selection of videos showing you how to use this library to its absolute best, and gives invaluable hints into post processing of synths and how to get your own Massive sound design work sounding fatter.