F9 Origins Classic Basses Vol1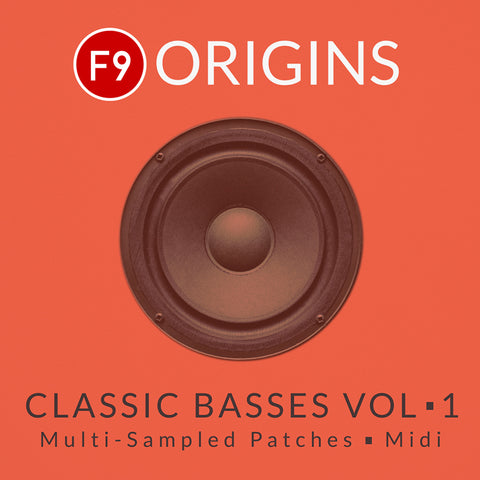 Get me some BASS!  
This 3.5Gb+ F9 release is here to solve a problem - How many times have you pulled up a bass sound, only to end up with 16 plugins hanging off it to make it fit? 

What if someone had done all that hard work already? - gotten the subs under control, used harmonic processing and hi-end hardware to bring out the weight needed for a modern club record whilst still making sure the 'note' is singing out for small speakers?  
Wouldn't it be perfect if that was wrapped up in a format that loaded nearly instantly in your DAW ( in under 1 second on a modern SSD ) with decent macro-control and that didn't need updating every single time your OS or Music apps did ?…. And added 135 bassline midi files ?
Welcome to F9 Origins Classic Basses - each volume contains 100 patches of time-saving, riff making, rump-shaking ( cone quaking ) bass instruments for Logic Pro X  and Ableton 9.5, 10 and 11
Sampling has been emotional .... But thanks to some amazing hardware from Mr. Rupert Neve (RIP), API, GML ( 8900- the tightest compressor I've ever owned ) SSL ( Fusion - what a brilliant box ), and the twisted genius of Overstayer, CA (who's unbelievable modular channel came in toward the end ), we are proud to present the fruits of our labor to the world.
❖❖  This release is also available as a bundle with Vol2 HERE
Hardware sound sources from this dual volume release: 
Roland TB 303, Moog Minimoog Model D ( re-issue for perfect tuning ) Sequential Circuits Pro-1, Roland SH 101, Roland Jupiter 8, Roland Juno 106, Roland Juno 60, Roland Jupiter 4, EMU Emulator II, Yamaha TX 81Z, Yamaha TX 802, Yamaha DX 100, Nord Lead 2, Oberheim OBX-A, Yamaha SY 35, Korg MS20, Korg M1, Korg Triton, Oberheim DPX, Prophet VS, Sequential Prophet 5 ( Rev 4).  
Being an F9 Release this is perfectly delivered for the modern producer.

Logic users get 100 Logic patches, smart controls all within Logic's Library. FINALLY, you can instantly audition the sounds using Apple loops ( the loops will create the instrument channel when dragged onto the arrange area ).   



Ableton users get a perfectly encapsulated pack with 100 Live racks, and a preview system based on Live clips that will create the rack when dragged onto your track. Both formats come with startup pages that demonstrate all the patches in the release. 
Every production is as unique as a fingerprint and needs love and attention on the bass end. - These patches will give you a fantastic starting block so that when you reach for a bit of 60Hz to fill the bottom out or push 300Hz to bring out a bit more 'note', it's all there to play with without swamping your track in sub or muddiness
We've had great fun stacking some of these patches - some careful low and high pass filtering will be required but there's so much sonic variation in the patches you can really get some excellent combinations. 
Basically (all puns intended ) - I hope you have fun and smash the hell out of this library. I have been. I can't wait to hear what you guys do with these ..
All the best from me and stay safe in these ever stranger times
- James Wiltshire - F9 Audio / Freemasons 
System requirements  
Logic Pro X 10.2.2 or Later ( fully compatible with 10.6.X, Big Sur, and Apple Silicon ) 
Ableton Live ( STD or Suite ) 9.5 onwards including Live 10 and 11 
Kontakt edition requires a FULL install of Kontakt 5.8.1 onwards - It will not work with the free edition of Kontakt, or Kontakt player.
Please note - this release will not work with Ableton live Intro
Audio demos contain Drums, FX, and a few additional sounds from other F9 releases
 ---------
Compatibility List:
Compatible with Logic Pro 10.2 Onwards ( Including M1 and OSX Monterey / Ventura ).

Compatible with Ableton 9.5 Onwards ( Standard or Suite )

Compatible with Ableton 10 Onwards ( Standard or Suite )
Compatible with Ableton 11 Onwards ( Standard or Suite )

Compatible with Kontakt 5.8.1 Onwards
Requires a fully paid Kontakt install, not the Kontakt Player editions. 
 ---------
Legal information : 
Logic Pro, Smart controls, Apple loops and EXS24 are trademarks of Apple Inc. F9 Is not affliliated or endorsed by Apple in any way, and its trademarks are only used to show compatibility with Apple's Logic Pro Software.

Ableton, Live Pack, Live Racks are trademarks of Ableton AG. 

All additional product and company names including trademarks™ or registered® trademarks are included for descriptive or illustrative purposes only. F9 Audio does not have or claim to have any affiliation or endorsement with these external brands. Any goodwill attached to those brands rests with the brand owner.

 



All specifications are subject to change without notice.

To see this product's license agreement, click HERE