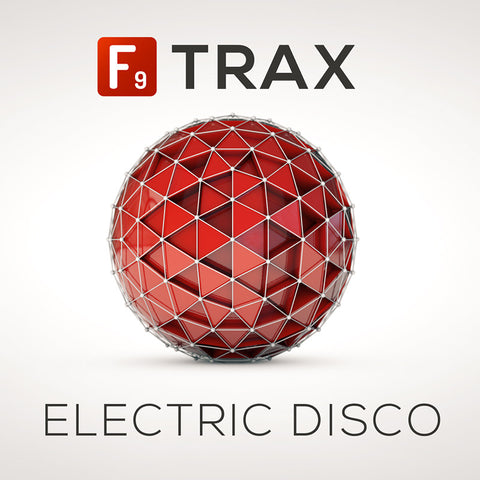 Awarded 10/10 in computer music !     
A Groundbreaking release from F9 containing 5 fully customisable DAW projects.
F9 is very proud to present TRAX Electric Disco. An exceptionally forward-thinking way to deliver world-class Royalty-free Audio, Midi, Sampler instruments as well as genre-specific musical and technical knowledge direct to your own creative space.
5 Complete DAW and fully customizable projects take you through Roots and Nu Disco all the way to Disco House and the Electric Funk flavors of Minneapolis that have exploded over the last few years
If you've ever wondered how to get the musically rich chord sequences used in Disco, how to mix and balance a Nu-Disco production correctly or getting stuck on arrangements then this is an essential purchase. Nearly all the principal musical elements you hear in the demos are driven from multi-sampled instruments and Midi data giving the user exclusive and un-rivalled insider knowledge and control to tear this down and build it back up. The Midi data in this release Offers exceptional insight into the voicing and musical tricks associated with Disco along its 40-year history
These 5 projects are heavily built on Multi-sampled patches making this the most flexible sample pack we've released so far. Channel strip settings / Live racks are also included so you can add the instruments and their processing to your own productions. some highlights of the patches include :
Stereo Disco Piano + Electric Piano patches 
Disco Basses ( live and synth ) 
Multi-sampled analogue ( Prophet 6, Jupiter 8, OB6, SH101 ) 
Extensive Drum menus 
Pre-chopped Funk Gtr Patches
An extensive set of drum menus
Live disco claps ( perfectly processed )   
80+ patches are available. No additional plugins are required!
*Some projects use a few live instrument recordings and on these parts, midi is not available for obvious reasons 
See the Notes, Learn the Tricks 
Disco - like any form of music has its tricks and base chordal structures. For the first time, you can now dive right into the midi and see how fat and punchy disco chord sequences are put together in the comfort of your own creative space and in your own time. Nothing has been held back -
See how moving the bass notes up a whole tone creates a chord that sounds exactly on point
See how moving out of the scale for just one chord sounds so soulful!
Feature Comparison
For the first time in this release, we are offering an alternative to anyone not using the supported DAWs - WAV Stems that contain an entire multitrack - please note this is a very large download when unpacked! 
Exceptional Detail 
Every project has been prepared as if it were a commercial release and minimal automation has been used making editing of the projects a breeze  
For Hi-rez Screenshots of all the project pages click HERE
Is there a catch?. Only one, and its standard across this style of sample pack to protect all users - All the material in this pack is Royalty free as normal, the Demo Arrangements are Copyright of F9 Audio and you must make a new work by changing the page, midi notes and adding your own sounds.
Please note: The license for this pack does not include the creation of Library Music . for more information and to see this products license Agreement please click HERE
Min requirements :
Logic 9.1.4+ ( 64 bit recommended ) 
Logic Pro X ( all versions including Big Sur & M1 Silicon ) 
8-10gig Free disc space for download and de-compression
 * Main audio demos are processed with one instance of Izotope Ozone 7 on the master channel. All instrument and channel processing as per the projects.
Legal information : 
Logic Pro, Smart controls, Apple loops and EXS24 are trademarks of Apple Inc. F9 Is not affliliated or endorsed by Apple in any way, and its trademarks are only used to show compatibility with Apple's Logic Pro Software.

Ableton, Live Pack, Live Racks are trademarks of Ableton AG. 

All additional product and company names including trademarks™ or registered® trademarks are included for descriptive or illustrative purposes only. F9 Audio does not have or claim to have any affiliation or endorsement with these external brands. Any goodwill attached to those brands rests with the brand owner.

 



All specifications are subject to change without notice.

To see this product's license agreement, click HERE