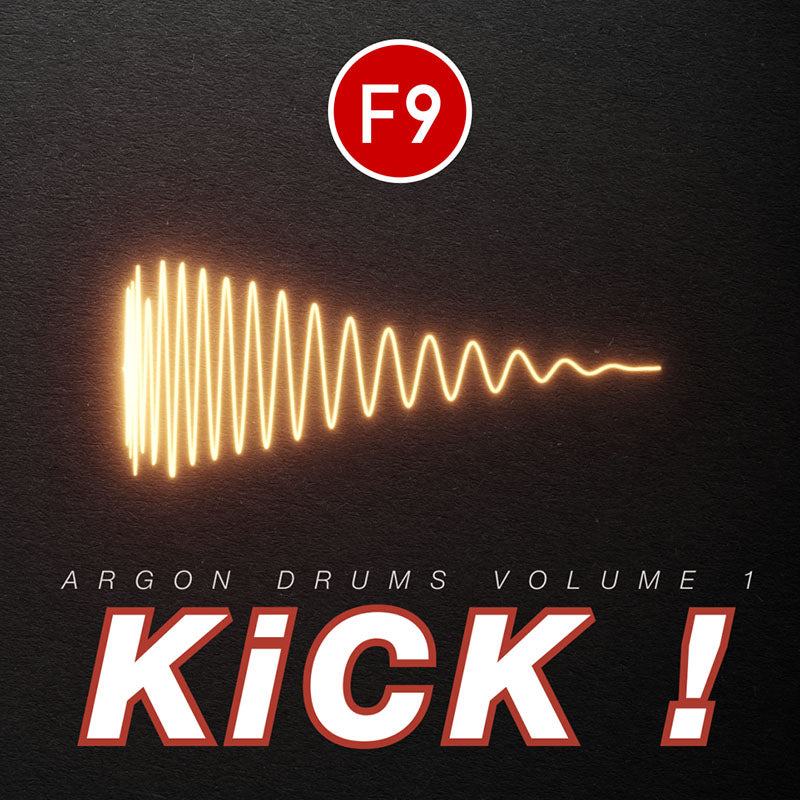 F9 KICK! - Contemporary Club and House Kick Drums
CHOOSE YOUR FORMAT CAREFULLY
> All F9 digital products can be downloaded instantly after purchase
---
Our Most Succesful Product So Far
100 Modern, Solid Kicks + Expertise
This is a sample pack I've wanted personally for my entire career. A hand-curated collection of modern kick drums that provide instant punch and perfectly controlled subsonic audio that won't swamp your production.  
Like all F9 releases -  we went above and beyond in the search for the ultimate pack of club-ready bass drums.  
Resampling through one of the world's most revered sampling drum machines, Separating the transient and body portions of every kick for endless mix-and-match, adding a whole collection of kick layers and wrapping the whole lot up in our renowned sampler formats. 
I'm immensely proud to present F9 KICK! Vol1 - 100 kicks, all created to give you access to the finest foundation for your next production's bass end.   

Included in this single-format pack:
100 X 24 Bit Kicks 75 Club Kicks, 25 House Kicks
100 X 16 Bit Kicks ( Names compatible with vintage MPC and other samplers) 
100 X MPC3K Kicks All re-sampled with our vintage MPC 3000 
Split Kicks - All core kicks have been separated into 'Transient' and 'Body' portions allowing for mix-and matching of sound 
Layers  - A collection of overlays for your kicks, Multiple forms of ambience and reverbs, digital elements and grunge for additional customisation. 
Kontakt 5.8.1 Library **
MPC V2.11 Expansion (Including the

FREE

MPC Beats)
Ableton Rack (live 9.5, 10,11 & 12 Standard or Suite ) 
Logic Pro X Library (based around EXS24 / Logic patches) 
Halion Sonic SE Library (Halion SE available FREE from Steinberg.com ) 
** Please note the Kontakt portion will require a full install of Kontakt and will not work correctly with the free/ bundled versions of Kontakt. Please check your current Kontakt edition using Native Access, 
100 Core Kicks. 
75 Club Kicks start the collection off, every one of them created inside a working musical production -  not in isolation like so many sample packs. perfectly balanced transient and ambience layers were added during production. 

25 House Kicks then top off this collection - Many sourced from 909 and other analogue sources or recorded from several of our classic samplers.
We have covered a ton of sonic options here across this pack whilst making sure every kick is useable, punchy and adaptable. 
The kicks (and all main WAV files) are available normalized and also levelled -6DB from digital full scale, 
MPC 3000 Kicks. 
All 100 Kicks have been re-sampled into F9 MPC 3000 and kicked back out through its legendary & punchy audio outputs.
Pre-Amped via an API 527 we then added just a hint of presence and heft from a stereo pair of Chandler Lil Devil inductor EQs before adding a tickle of compression with a stereo pair of DBX 160Xs. The conversion from analogue to digital was handled by our Apogee Symphony system.

This folder of kicks will give you a slightly tighter bass end as the natural filtering of the analogue recording stages push the kicks forward whilst the MPC's 16bit converters add the slightest air of crunch. 
Split Kicks.
All 100 Kicks have been carefully processed to split the noise ( Transient )  and tonal ( Body ) elements into separate files. As the spectral process was identical for each kick it allows for some almost impossibly-instant mix-and-match experiments. 
You can also layer multiple transients against a solid body portion to really hammer home the aurally-vital initial 50ms of your composite kick. 
The potential here for unique kick tones using these samples is huge - not every combination will work ( that would be misleading to suggest ) but in our investigations, it has never ceased to be fun to experiment with the split samples in this pack. 
Kick Layers
Everyone wants to have their own unique take on modern music. That's why we added 190 layer samples to this collection - We encourage a lot of experimentation in this corner of the library - A dusting of ambience, some grunge and a tight digital top ( carefully balanced - you'll only need a whisper ) will transform these kicks character and perceived sound-field placement. 
Sampler Formats
We've included enough sampler formats to cover every DAW. Direct support for Ableton, Logic and Cubase ( Via Halion Sonic SE )  is included. as well as MPC V2.11 and Kontakt 58.1. Onwards ( Full version required ) 
Please Don't Key Your Kick Drums
For years I've been getting increasingly worried about the terrible information out there surrounding the precise keying of kick drums to the music root of your production. 
Such advice is fundamentally flawed as in the lowest frequency ranges we simply do not experience harmony in the same way we do in the higher octaves for a number of reasons. 
Phase is king and the most important concept to understand and control in the subsonic end of contemporary audio. Tuning your kick and bass fundamentals together throws up huge phase-related issues in these vital and often misunderstood areas. As  energy increases the lower you go in terms of frequency, the problems start to become exponentially more important in your quest for a solid bass end. 
Every single process we've ever seen to sidestep this involves enormous amounts of work and sets you up for danger later in the production/mixing pipeline.
After discussions with many producers who still cling to this, I can say for certainty that very few active producers fully understand the complexities of phase in DAW workflows ( E.G. - did you know that 90% of EQs create a fairly dramatic phase shift the moment you apply a high-pass filter or raise the gain of any band on a bass or kick drum ? ) 

Please do not 'Key' your kick drums. Use your ears to pick great kicks first, then shorten them as much as possible for your production / chosen genre ( this is often the secret of landing your kick correctly ) then use visual diagnostics to check how it's working across your track. Always trust your ears over the visuals - You don't hear music with your eyes or appreciate it via theory. 
I understand there are a few extreme genres of dance music where the kicks are so heavily processed and distorted that the upper harmonics create a note in themselves, but the remaining 99% of electronic producers need only concern themselves with fine and coarse tuning, not keying. 
At no point throughout the production of the audio demos above did we ever consider the key of the kicks.
Please don't believe everything you read in forums. 

James Wiltshire - F9 Audio / Freemasons ( Artists )  
 
Please note: the audio demo contains drums, music and effects from other F9 releases that are NOT included in this release. This is a pack of playable 808 bass instruments and layers. 
* This release will not work with the free versions of Kontakt - it requires a full install, please check your install type using Native Access before purchase. 
Compatibility List:
Compatible with Logic Pro X 10.2.4. Onwards (including M1 and OSX Monterey / Ventura)
Compatible with Ableton 9.5 Onwards (Standard or Suite)
Compatible with Ableton 10 Onwards (Standard or Suite)
Compatible with Ableton 11 Onwards (Standard or Suite)

Compatible with Ableton 12

Compatible with Bitwig Studio V4.4 Onwards
Compatible with Kontakt 5.8.1 Onwards
* Requires a fully paid Kontakt install, not the Kontakt Player editions.
Compatible with MPC Live I and II *
Compatible with MPC ONE *
Compatible with MPC X *
Compatible with MPC Key 61 *
Compatible with MPC Studio *
Compatible with AKAI Force **
Compatible with MPC Standalone *
Compatible with MPC Software V2.11
* Requires firmware V2.11 onwards
** Requires Akai Force OS V3.2 onward
---
Legal :
Logic Pro, Smart Controls, Apple Loops, EXS24, and Apple Silicon are trademarks of Apple Inc.
Ableton, Live Pack, and Live Racks are trademarks of Ableton AG.
Kontakt, Maschine, Komplete Kontrol, and Native Access are registered trademarks of Native Instruments GMBH. Steinberg,
Cubase, HALion, Halion Sonic SE, and VST are trademarks of Steinberg Media Technologies GmbH.
Bitwig is a trademark of Bitwig GmbH.
AKAI, MPC & Qlink are trademarks of Inmusic Brands Inc.
These trademarks are mentioned exclusively to identify compatibility with the respective companies' music production software and functionalities.
F9 Audio Ltd does not claim any affiliation or endorsement from Apple Inc, Steinberg Media Technologies GmbH, Native Instruments GMBH, Ableton AG, Bitwig GmbH, or Inmusic Brands Inc. The trademarks of these respective companies are used solely for the purpose of identifying compatibility with their music creation software.
References to other hardware devices or sub-brands on this page, including instruments and registered trademarks, are provided for descriptive purposes only. For instance, when referring to instrument brands and their associated trademarks, the intention is to describe the sound or instrument used in creating a specific sound or patch. F9 Audio Ltd does not maintain, nor does it claim, any association with or endorsement by these brands. Any goodwill connected to these brands lies with the brand owner.
To see this product's license agreement, click HERE