F9 Trinity Free Kits for MPC - 808 909 LD2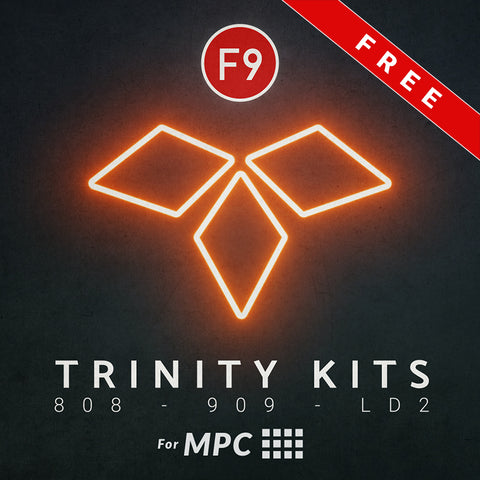 A Free F9 MPC Expansion.  
We have reworked our infamous Trinity kits for MPC V2.11. New FX Chains, better programming, demo sequences and a full set of 16 Q-Link Macros await you in this easy-to-use MPC expansion 

Fully Compatible with :
MPC Standalone 

V2.11 onwards 

MPC Software V2.11 onwards 
the FREE Edition MPC BEATS 

V2.11 onwards 
The Roland TR 808 Needs little 
introduction ( TR stands for Transistor Rhythm)  - The most coveted electronic percussion instrument ever produced.
After a fairly short production run between 1980 and 1983, this classic piece of synthesiser hardware has left an enormous impact on music production across Genres and formats and has probably appeared on more recordings over the last 30 or so years than any other electronic device.
All Sounds in the TR808 are created in pure analogue circuitry and therefore contain minute variations on every single hit. This is most apparent in the clap and snare sounds that use a shared noise circuit. 

Synonymous with 80s Electro, Hip Hop and some early house, the 808 has been a production staple and it's kick drum has never really been matched. The decay control allowed for an extraordinarily long kick sound and sometime in the recent past, Hip Hop producers started tuning samples from 808 kicks and using them chromatically. The rest is lore and history, 

This production-ready Kit was sampled through an API 512 pre, Neve 1081 , 1057 , SSL G series EQ ( hardware) and processed using with an old-School Flavour in mind - Just the right amount of reverb and post-processing has been applied so this kit can fit right into production the moment you call it up. 
TR 808 KIT
The Roland TR 909 is THE drum machine of House and Techno. Now fetching over £4000 for a second-hand unit it had everything the early house pioneers needed to cut through on the new and bigger club systems of the day.

The 909 was the first Roland drum machine to use samples as well as analogue circuitry to create its beats. The brilliantly low bit rate hi-hats and cymbals are famously sampled from the acoustic kit of one of the Japanese development boffins at the Roland Corp.
Surprisingly it was a commercial failure and by then the Linn Drum was omnipresent and the market demanded realistic drums. Roland rushed out the 707, building on the sampling work and cheaper digital components a year or so gave them and the 909 was consigned to the second hand market. Here - bedroom producers in Chicago, Detroit and New York were looking for cheap equipment to make the new form of music that was appearing underground - House, and Techno. It was a match made in heaven. 
Still making itself known today through the re-boot of classic house rhythms across the EDM spectrum and via Roland's excellent TR-8 recreation and Roaldn Cloud editions,  this is a piece of production history that never seems to be too far away from a club system. 
Once again this kit was sampled through an API 512 pre, Neve 1081, SSL G series EQ ( hardware) and processed using with just the right amount of reverb and post-processing so you can bring it up and start creating. 
If there is one electronic drum that Defines the 80's it has to be the enormously fat snare of the Linndrum From Roger Linn. You've heard it a million records times from Prince, Frankie goes to Hollywood, Peter Gabriel, Harold Faltymeyer Soundtracks, Ah-Ha, 80's rock even early goth and industrial records.
Now in the middle of a remarkable comeback due to the rise of synthwave and enormous pop projects from The Weeknd etc
It's still revered by producers to this day and bought about the concept of swing in electronic rhythm programming
But its not just It's sound that lives on - It's soul and concept survived through the Linn 9000 that went on to become the original MPC-60 and MPC 3000's
A milestone in rhythm production the LD2 use 8 bit Eprom chips to produce a sound that was dirty and larger than life - Roger Linn has always said it was his lack of knowledge in certain areas that led them down the sonic road they ended up, but this is the man who invented modern swing in machines, so we simply must all salute him.  

-----
Compatibility List:
Compatible with MPC Live I and II *

Compatible with MPC ONE *

Compatible with MPC X *

Compatible with MPC Key 61 *

Compatible with MPC Studio *

Compatible with AKAI Force **

Compatible with MPC Standalone *

Compatible with MPC Software V2.11
* Requires firmware V2.11 onwards
** Requires Akai Force OS V3.2 onwards
-----
Legal information : 
AKAI,  MPC & Qlink are trademarks of Inmusic Brands Inc. 

F9 Audio ltd is in no way affiliated with or endorsed Inmusic Brands Inc. The trademarks of these respective companies are used solely to identify this product's compatibility with the music creation software. 
Any / all references to other hardware devices or sub-brands on this page including instruments and registered trademarks are provided for descriptive purposes only. For example, references to instrument brands and associated trademarks are provided to describe the sound of the instrument and/or the instrument used in the creation of a sound or patch. F9 Audio Ltd does not have (nor do they claim) any association with or endorsement by these brands. Any goodwill attached to those brands rests with the brand owner.
All specifications are subject to change without notice.
To see this product's license agreement, click HERE