F9 Electric Disco II : Nuggets Vol1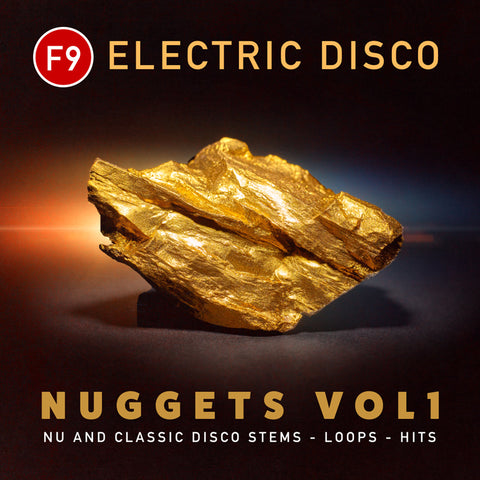 5Gb+ of Rich Disco Music
* This release is a set of musical stems, loops, one-shots and sampler sound-menus.  The drums on the audio demos are not included and come from our phenomenally successful F9 Electric Disco II Beats collection which you can experience HERE
Having personally purchased, opened and then ultimately discarded almost every disco flavoured sample pack I could find, the aim here has been high from the start - To create the finest Disco music sample pack the industry has seen so far.
If you're here and you've heard the audio demos above, I'm hoping you agree - we delivered.
Written, produced and mixed over many months with one eye on the late 70s / early 80s disco and post-disco club sound, we pulled the rich musical history of disco forward to the sonic needs of the 21st century. These stems, loops and hits are designed to work with the most modern drum productions.  

Please listen to all the audio demos to hear the breadth of the music contained here. Each of the 12 main pieces has 2 musical sections which resolve harmonically as disco always did. The music is strident, powerful and rich in chordal complexity yet the pieces fall back onto the grooves perfectly.
18 Stem sets
12 Main themes ( with 2 sections each )
6 bonus 'Disco Juice' themes
Support for Ableton, Logic, Cubase, Studio One, WAV
495 Loops
40 Sound-menu sampler instruments
Kontakt** and Halion SE sound-menu patches with every format
2200+ One-shot / mini-riff pre-chopped files
** If you need more than 1 format of this release only, add them to the cart and receive a 44% Discount at checkout 
Disco is the dance floor's classical music in that the return to the downbeat was an emotional experience.  Personally, I believe this is the reason it has weathered the decades so well. Each new generation finds its own way to represent to 4-to-the-floor power unleashed in the late 70s and the perfect musical resolutions of the themes, led by orchestral instruments carefully arranged on a thick, funk backdrop groove.
All of this is captured here and midi parts of nearly all the main instruments are available ( thank you Melodyne for helping out with live parts ) Dive in to see the chord voicings, the scale sweet spots for riffs and how melody and harmony come alive in Disco productions. 
Recorded carefully with a hybrid approach encompassing live instrumentation and exceptionally careful programming, processing and mixing, this set of stems ( 18 themes in total ) is exactly what I would love to see in a classic Disco sample pack. I hope you agree.
Thank you all so much for your patience  - We've never received so many messages about an upcoming release - I hope we've done you proud,. 
James Wiltshire - F9 Audio / Freemasons 

The Details ---------
DAW and WAV Support
All stem sets are pre-loaded into arrangement pages for Logic, Ableton, Cubase and Studio One. Loops are available in Native DAW format(s) and a full PDF Manual is always available in every F9 release. 

The WAV format pack has a carefully labelled folder structure showing the Tempo and Musical Key of every stem-set. 
Sampler Support 
Native support is available for Logic's EXS24/Sampler plugin, Ableton's Racks and Studio One's presence XT. 
Every format also contains a Kontakt Libray and a Halion SE library.
Although included in Cubase for many years, Halion SE is a free sampler player for all DAWS supporting AU, VST, VST3 and AAX - it can be downloaded for free HERE. We thought this was the most inclusive format possible for this release and we look forward to finding out if it's been a useful edition for you. 
The 40 sampler patches in this pack are sound-menus of one-shots taken from the included stem sets. playable disco instruments will be available on our upcoming F9 TRAX Electric Disco II pack. 
System Requirements

Ableton 9.5 Onwards

 Standard or Suite edition 

( Including Live 10 & 11)
Logic Pro X 10.2.4 onwards

 

( including all M1/ Apple silicon Logic systems )
Cubase 9.5 onwards

 

( Including LE and Elements editions )
Studio One 4.6 onwards

 

( Including 5 )
WAV

 

format carefully marked for all other DAWs
Requirements for additional content included with every format: 
** A full version of Kontakt is required to run the Kontakt portion of this release. It will not function correctly with the Free versions of Kontakt such as the Kontakt player, or the bundled Kontakt engine in Maschine. 
NB: When the stems are unpacked, the library can take up over 8Gb so please ensure you have at least 18Gb free on your drive for the download and de-compression. Please only use Windows Explorer and OSX Archive Utility to unpack the zips - other apps may not work correctly.

To see the license agreement for this release, please click HERE

  ---------
Compatibility List:
Compatible with Logic Pro X 10.2.4. Onwards ( including M1 and OSX Monterey / Ventura )
Compatible with Ableton 9.5 Onwards ( Standard or Suite )
Compatible with Ableton 11 Onwards ( Standard or Suite )
Compatible with Kontakt 5.8.1 Onwards*
Compatible with Presonus Studio One onwards
Compatible with Cubase 9.5 Onwards
Part of this library is compatible with Halion Sonic SE3 and Halion Sonic 7

Part of this library is compatible with MPC one, MPC-X, MPC Key 61, MPC Studio, MPC Touch / MPC Touch II, Akai Force, MPC beats and MPC Software V2.11 onwards
* Requires a fully paid Kontakt install, not the Kontakt Player editions.
 ---------
Legal information :   
Logic Pro, Smart controls, Apple loops and EXS24 are trademarks of Apple Inc. F9 Is not affliliated or endorsed by Apple in any way, and its trademarks are only used to show compatibility with Apple's Logic Pro Software.

Ableton, Live Pack, Live Racks are trademarks of Ableton AG. 

Steinberg, Cubase , Haiion Halion SE, vstsound and VST are Trademarks of Steinberg Media Technologies GmbH

Studio One, Presence XT and Audioloop are Trademarks of PreSonus Audio Electronics, Inc.. F9 Is not endorsed or affiliated with Presonus, Its trademark is used solely to identify compatibility with Presonus's Studio One software and its functionality.

All additional product and company names including trademarks™ or registered® trademarks are included for descriptive or illustrative purposes only. F9 Audio does not have or claim to have any affiliation or endorsement with these external brands. Any goodwill attached to those brands rests with the brand owner.

 



All specifications are subject to change without notice.