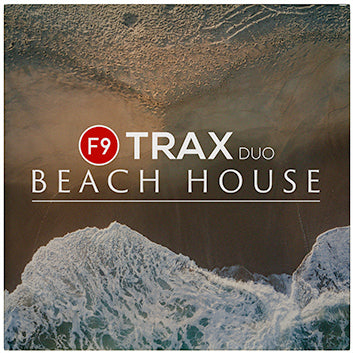 The sounds of the summer : Inside your DAW
The worlds' most powerful sample packs: F9 TRAX return with a beautifully chilled summer helping of beach/poolside house music that references the melodic house sounds of the present, past, and future.   
Built as DAW templates for Logic Pro X (including M1 Silicon)  and Ableton Live 9, 10 and 1, employing multi-sampled instruments and Midi data these releases give you more control and flexibility than any other sample packs currently available. This is the reason TRAX are loved by our users
Learn exactly how these records are made. 

90+Tracks each ( Logic & Ableton ) 

3 Startup pages pre-loaded with sounds

No 3rd party plugins required. 

3Gb Sound Library for Ableton / Logic 

Includes acoustic and electric pianos 

A full set of session

notes cover the music, production and mix

WAV version includes full project stems
The projects : 
1 - F9 TRAX Riptide 124Bpm Dminor. 
The contemporary sound of beach house. Crisp, tight drums interplay with solid bass parts, rich chord voicings and perfectly on point melodic and atmospheric production flourishes. 

Look deep inside the project's 90+ tracks to find side-chaining tricks, winning arrangement ideas, automation plots.  See how simple a mix can actually be when the balances and core sounds are built carefully. 

Tear this project down to build your own summer anthem for Poolside, club or radio.

 
2 - F9 TRAX Driftwood 122Bpm Dminor. 
A classic slab of Balearic summer house with one foot in the heady days of Ibiza's renown sunset cafes and one foot firmly in the present with just a hint of beach funk and a nod to 90's laid back breaks

Look deep inside this project to see the production tricks we employ to slip effortlessly between 4/4 and breakbeat rhythms. See how we employ multiple bass sounds, yet still keep a solid low end. See how atmospheric samples and foley intertwine with live percussion recordings to give an organic feel across the production. 

See all the notes - How we turn a simple chord sequence into a rich melodic stage that's perfect for the beach, pool, or sundown

Dig right into this project and build a sunset classic, or start from the beats-only startup page that has all the midi instruments pre-loaded and ready for inspiration. 
Is there a catch? Only one, and its pure common sense and standard across this style of sample pack to protect all users: 
All the material in this pack is 'royalty free'* The supplied DAW demo arrangements remain the copyright of F9 Audio. Each user must make a new work by changing the page, midi notes, melodies, and adding your own sounds. This is simply to stop multiple users making identical masters. 
Please note the product is not licensed for the creation of Library Music.
 * Main audio demos are processed with one instance of Izotope Ozone 7 on the master channel. All instrument and channel processing as per the projects.
We encourage all users to read the current F9 TRAX licence Agreement HERE
* Royalty Free Soundware is an industry-standard term. It means you will never have to pay a single penny more than the purchase price to F9 Audio for using the content contained in this release no matter how and where your music is released 
Compatibility List:
Compatible with Logic Pro 10.2.4 ( Including M1 and OSX Monterey / Ventura ).

Compatible with Ableton 9.5 Onwards ( Standard or Suite )

Compatible with Ableton 10 Onwards ( Standard or Suite )
Compatible with Ableton 11 Onwards ( Standard or Suite )
Compatible with systems that can use WAV stems / loops ( WAV edition ) 
Legal information :  
Logic Pro, Smart controls, Apple loops and EXS24 are trademarks of Apple Inc. F9 Is not affliliated or endorsed by Apple in any way, and its trademarks are only used to show compatibility with Apple's Logic Pro Software.

Ableton, Live Pack, Live Racks are trademarks of Ableton AG. 

All additional product and company names including trademarks™ or registered® trademarks are included for descriptive or illustrative purposes only. F9 Audio does not have or claim to have any affiliation or endorsement with these external brands. Any goodwill attached to those brands rests with the brand owner.

 



All specifications are subject to change without notice.

To see this product's license agreement, click HERE