Forte : Piano Chords Vol1 Club Classics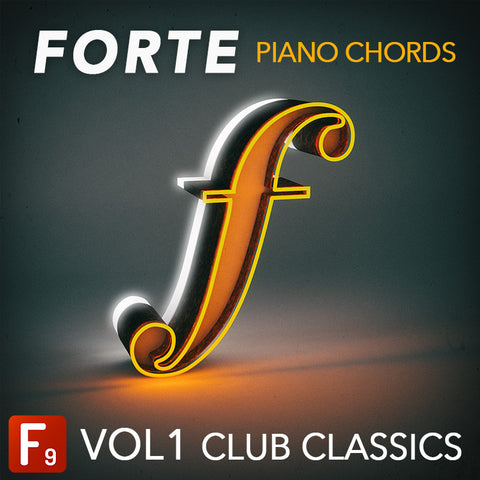 F9 Forte Piano Chords: 


A brand new way to work with piano


If you ever wanted to build a huge, rich Piano Riff for your next production but lack the Musical knowledge and Keyboard agility then you need Forte Piano Chords from F9 - 12 musical sets of chords laid out across your Midi controller of choice 
All the chords in each of the 12 sets have been split between BASS note and MID Chord voicing ( normally played with right hand ). This makes them perfect for creating the kind of classic piano riffs that have spanned every major era of Electronic dance music since Disco. Additional FULL chords allow for one finger building of chord sequences whilst the TOP section of the pack adds some magic high octave dust to proceedings.
The next problem many producers face when adding piano to their track is: the sound. James Wiltshire of Freemason has EQ'd,  compressed, parallel processed and carefully overdriven his way through every single one of these sounds bringing 15+ years of experience in modern piano recording & processing to the table.
These chords will set in your tracks effortlessly and have been carefully controlled right from the raw recordings not to exhibit the "Ultra wide' Problems of many piano libraries and have all the bite needed for modern production 
To keep the Pad workflow of Maschine there are 4 lots of 8 Samples in each Chord set hence the slightly lower pricing (The DAW and Kontakt versions have 4 lots of 12 /11  Samples in each ) We have picked the best 8 for each Maschine project 
Please note this is a Piano chord library and all additional sounds and drums in the audio demos are for demonstration purposes only. 
Available for : 
Ableton 9, 10 and 11 ( Standard or Suite ) 
Logic 9.1.8, all versions of Logic Pro X ( Including M1 Silicon ) 
Kontakt 5.8.1 Onwards *
Maschine 2.4 *
Reason 7.0 *
* A full version of Kontakt is required - this library will not work on the free editions of Kontakt ( including the Kontakt player and the Kontakt playback editions built into Maschine / Komplete Kontrol ) 
1+Gig of 24 bit Piano samples
12 sets of Chords 
Multiple Pianos sounds
Genre specific Sounds for each Chord set
Many passed through analogue tape 
Works at ANY tempo 
Totally cross-genre 
572 separate Samples ( DAW + Kontakt ) 
384 Samples ( Maschine) 
Learn Piano Part rhythms 
Play chord sequences with 1 finger
Forte Ableton
572 24bit samples 

143 Main chords 

12 Master Simpler/ Sampler  Racks 

8 Macro Controls 

2 Additional Processing Racks
Forte Logic
572 24bit samples 

143 Main chords 

12 Master Channel strips

12 Master EXS24 patches

9 Channel strips for piano processing 
12 Master NKI Patches 

572 24bit samples 

143 Main chords 

12 Master Patches 

Custom GUI 

8 GUI controls 
12 Master Combinator patches

572 24bit samples 

143 Main chords 

12 NNXT patches

8 Combinator controls
12 Master Projects

24 Groups

384 24 Bit Samples 

96 Main Chords

2 pages of Macro controls on each group  
Legal information : 
Logic Pro, Smart controls, Apple loops and EXS24 are trademarks of Apple Inc. F9 Is not affliliated or endorsed by Apple in any way, and its trademarks are only used to show compatibility with Apple's Logic Pro Software.

Ableton, Live Pack, Live Racks are trademarks of Ableton AG. 

All additional product and company names including trademarks™ or registered® trademarks are included for descriptive or illustrative purposes only. F9 Audio does not have or claim to have any affiliation or endorsement with these external brands. Any goodwill attached to those brands rests with the brand owner.

 



All specifications are subject to change without notice.

To see this product's license agreement, click HERE
In-Depth
Each patch for Logic, Ableton, Kontakt , Maschine and Reason has been meticulously put together to bring out a particular favour of 40 years of dance music from the Sharp and powerful NYC disco Styled Midi Grand Piano Patches to a dusty old Lo-fi Upright ( perfect for those Big Beat moments / Booties )
The Decay portion of the piano has been kept in full and as you will be triggering midi notes and there are absolutely no loops involved these chord sets work in absolutely any given tempo and genre . They even work perfectly with tempo changes,
These is not a subtle library . FORTE means play with force in classical terminology. Forte is a bank of huge sounding piano chords that will slice their way through any contemporary production & Mix
1+Gig of 24 bit Piano samples 12 sets of Chords Multiple Pianos sounds Genre specific Sounds for each Chord set Many passed through analogue tape Works at ANY tempo Totally cross genre 572 separate Samples ( DAW + Kontakt ) 384 Samples ( Maschine) Learn Piano Part rhythms Play chord sequences with 1 finger Forte Ableton: 572 24bit samples 143 Main chords 12 Master Simpler/ Sampler Racks 8 Macro Controls 2 Additional Processing Racks Forte Logic : 572 24bit samples 143 Main chords 12 Master Channel strips 12 Master EXS24 patches 9 Channel strips for piano processing Forte Kontakt 12 Master NKI Patches 572 24bit samples 143 Main chords 12 Master Patches Custom GUI 8 GUI controls Forte Reason : 12 Master Combinator patches 572 24bit samples 143 Main chords 12 NNXT patches 8 Combinator controls Forte Maschine 12 Master Projects 24 Groups 384 24 Bit Samples 96 Main Chords 2 pages of Macro controls on each group