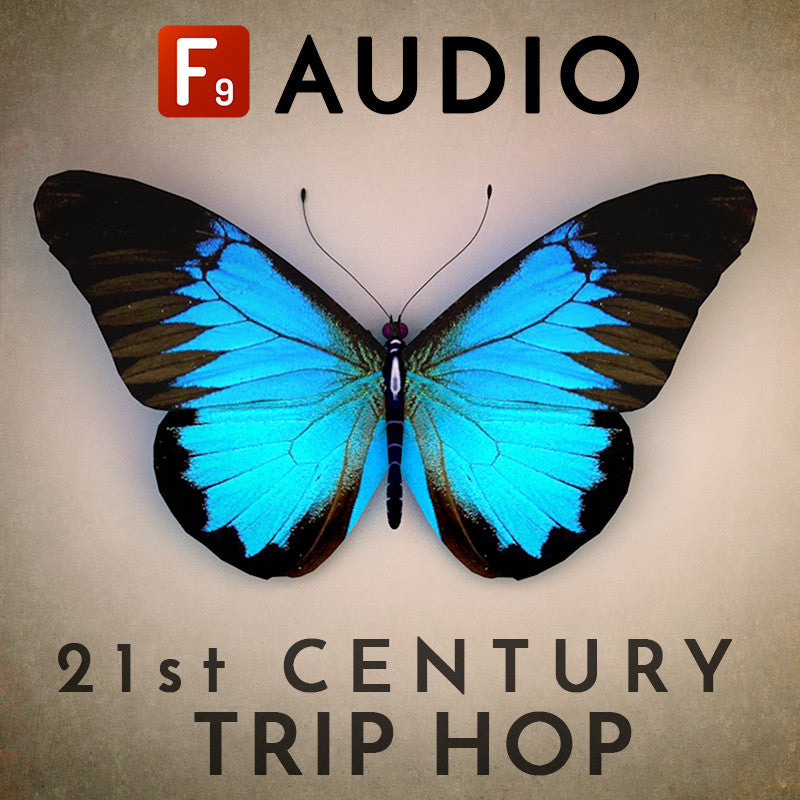 21st Century Trip Hop
CHOOSE YOUR FORMAT CAREFULLY
> All F9 digital products can be downloaded instantly after purchase
---
The 21st Century Series:
By purchasing 21st Century Trip Hop you will be investing in literally hundreds of man-hours of creating, recording, processing, layering & resampling that went into creating this Stunningly inspirational boutique sample pack.  
Using original drum and instrument recordings, Personal libraries of producers and engineers spanning 20 years, beatboxes of all ages Location re-recording, reel to reel tape, Cassette Tapes, Carefully applied layers of sonic grunge, Just about anything that had a Valve or vintage transistor in it & the finest digital tools available today we have pulled together one of the richest collections of low slung and emotional sounding audio loops at this price point. 
Available as a Standard edition pack and the exceptional Deluxe suite that contains more than 30% additional material including a preview of the forthcoming LAYERS system from F9 that allows you to add elements of ambience and Grunge in a similar way to a photoshop or video workflow   
21st Century Samples 
Sampling classic recordings is now financially unviable for many artists - The upfront clearance fees and publishing splits/negotiations can be crippling unless you are a plantinum selling artist. The 21st-century range from F9 seeks to address that 
Every pack in the 21st Century Range has a 21st Century Samples folder containing full musical ideas supplied as a full mix and stemmed parts. Every one of these musical pieces and motifs has been prepared and mixed as if it were a record in its own right. 
So to start with this pack we suggest you head for the 21st century Samples first for stemmed musical ideas, then check out the mangled beauty of the inspiration loops.
You're still only halfway into the musicality of this incredible pack as the Keyboards, Synths, Basses, Guitars, and Strings are still waiting for you to grab music motif that will kick off an entire production 
Hardware Equipment used in this pack's creation:
Emu Sp1200 Drum machine Emu Emax V1 12 Bit Hybrid sampler. Neve 1081 + 1057 Preamps and Equalisers. SSL Xrack Super analog EQ + Dynamics Original Roland TR 808, 606 and 909 ( thanks to Paul from Orbital for the lend ) Handcrafted labels Valve compressor, Chandler Zener Limiter. Kush Audio Fatso. Orban and AKG spring reverbs. Eventide Eclipse, Reverb and modulation pedals, DSI Prophet 6 Original 70's Minimoog, Jupiter 8, Various Electric Pianos, Acoustic pianos, Line 6 Mod filter, Various pedals. Fender Jazz bass (US) . Zoom location recorder. Variety of Tape and cassette machines.
 DELUXE Version
4.5Gig unpacked

609 24 Bit Audio Loops 

Wav and Apple Loops

217 21st Century Beats

87 21st Century Sample Loops

34 Bass Loops

30 Live Top Loops

32 Electric Piano Loops

26 Acoustic Piano Loops

16 Vintage String Loops

25 Prophet 6 Loops

19 Inspiration Loops

Full PDF Manual 

6 Tagged Machine 2. Kits

52 Mini-Moog Cross mod loops

11 Guitar Loops

36 F9 LAYER Samples 

202 Drum and Percussion Hits

34 Sub & 808 Sounds

40 Additional atoms + Vinyl hits

15 Soft Sampler patches for EXS24, Kontakt* 5+, Mach5, NNXT, Structure, Maschine 2+, Ableton Live9+
Standard Version
2.9 Gig unpacked

396 24 Bit Audio Loops 

Wav and Apple Loops

113 21st Century Beats

51 21st Century Sample loops

15 Bass Loops

21 Live Top Loops

23 Electric Piano Loops

20 Acoustic Piano Loop

10 Vintage String Loops

19 Prophet 6 Loops

14 Inspiration Loops

Full PDF Manual 

6 Tagged Machine 2. Kits

33 Mini-Moog Cross mod loops

11 Guitar Loops

202 Drum and Percussion Hits

34 Sub & 808 Sounds

15 Soft Sampler patches for EXS24, Kontakt* 5+, Mach5, NNXT, Structure, Maschine 2+, Ableton Live9+
*Please note - the Kontakt part of this release requires a full version of Kontakt - It will not work correctly with the Free Kontakt Player 
All product and company names including trademarks™ or registered® trademarks are included for descriptive or illustrative purposes only. F9 Audio does not have or claim to have any affiliation or endorsement with these external brands. Any goodwill attached to those brands rests with the brand owner.

All specifications are subject to change without notice.
---
Legal :
Logic Pro, Smart Controls, Apple Loops, EXS24, and Apple Silicon are trademarks of Apple Inc.
Ableton, Live Pack, and Live Racks are trademarks of Ableton AG.
Kontakt, Maschine, Komplete Kontrol, and Native Access are registered trademarks of Native Instruments GMBH. Steinberg,
Cubase, HALion, Halion Sonic SE, and VST are trademarks of Steinberg Media Technologies GmbH.
Bitwig is a trademark of Bitwig GmbH.
AKAI, MPC & Qlink are trademarks of Inmusic Brands Inc.
These trademarks are mentioned exclusively to identify compatibility with the respective companies' music production software and functionalities.
F9 Audio Ltd does not claim any affiliation or endorsement from Apple Inc, Steinberg Media Technologies GmbH, Native Instruments GMBH, Ableton AG, Bitwig GmbH, or Inmusic Brands Inc. The trademarks of these respective companies are used solely for the purpose of identifying compatibility with their music creation software.
References to other hardware devices or sub-brands on this page, including instruments and registered trademarks, are provided for descriptive purposes only. For instance, when referring to instrument brands and their associated trademarks, the intention is to describe the sound or instrument used in creating a specific sound or patch. F9 Audio Ltd does not maintain, nor does it claim, any association with or endorsement by these brands. Any goodwill connected to these brands lies with the brand owner.
To see this product's license agreement, click HERE