F9 Electric Disco II : Beats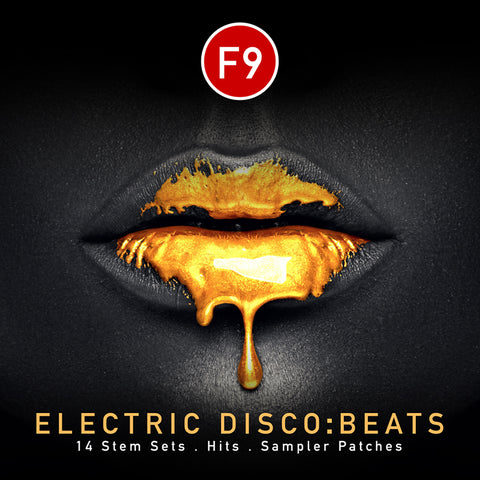 Nu-Disco Drum Heaven 
Please note - This is a drum and percussion release - The main audio demos contain additional musical elements from F9 Disco Nuggets Vol1. 

OK - so if you're like me, you love disco. I'm sure though, you've already found just how hard it is to get the drums and grooves sitting just right.

Your productions deserve punchy modern sonics, but with a warm, vinyl-like edge to work perfectly with the chords, baselines and funk. This takes a huge amount of work, experimentation and technology.


F9 Electric Disco II: Beats provides you with the most elegant solution to this eternal problem and you don't have to buy a ton of hardware, plugins or search around constantly on sample sites for inspiration to solve it - We've done all the hard work for you and It's all here in one place. Available for:
Ableton, Logic Pro X, Cubase, Studio One, Pro Tools and WAV with additional portions for Kontakt and MPC V2 . 
If you need more than 1 format, add them to the cart and receive a 44% Discount at checkout 

This pack's 14 drum stems sets were lovingly produced, arranged and mixed at F9's infamous hybrid hardware/software studio and presented perfectly in DAW or WAV stem formats - Everything has been separated and hits the mix bus just right so you start from a decent operating level with no over-normalisation.
The kicks are deep and powerful but not overpowering, the snares hit the speakers perfectly, every track has a live hi-hat recording for its duration, and the live claps took 2 weeks to perfect. Then we hit the percussion ( pun intended ). Each stem-set contains various sections of drops, breaks and rises and we've picked these out by changing up the percussion parts, generating a huge amount of variety, groove and possibilities. 
But obviously, this is F9, so we didn't stop there. Every part has been expertly chopped into 550+ loops that will tempo-sync perfectly in Ableton ( Live clips ), Logic Pro X ( tagged Apple loops ), Cubase ( WAV loops tagged for use in the Loop Browser ) and Studio one ( tagged Audioloops - WAV format ).

All of this left UK DJ legend Artwork to message and say

        "It's Just Incredible" &  "Mind-blowing"
Jolyon Petch, a NZ-Born ARIA Platinum artist based in Melbourne had this to say minutes after testing it for us :
" Absolutely incredible pack of disco goodness. Within a couple of minutes, I had my new Disco house drums sounding like they were ready to rock the club. Maybe I'm also a bit biased too as my alias is Elektrik Disko and the name of this pack is essentially named after me haha. For all nu-disco, disco and house producers this is the essential pack to grab. Buy it now and thank me later "

Diving deeper, we farmed the material for drum hits and added some additional kicks and snares, creating more than 660 one-shot hits that are presented as sampler patches for the supported DAWS. Highlights include an 8-way Round-robin patch of live disco claps perfectly produced for disco. To our knowledge, there is nothing else quite as detailed as this patch out there.

One of the most requested sounds at F9 has been the 70s synth toms heard all over late 70's disco. We have created 4, fully multi-sampled 4-way round-robin patches using an ARP 2600. To top the instruments off, we have created a 5-piece Simmons SDS kit ( Kick, snare, 3 toms ) sampled from an original SDS8. This patch is 8-way round-robin.

All the drum menus have been fully converted to Kontakt ( 5.8 onwards - Full version required ) and MPC V2.10 ( including the free MPC Beats ) and are available with every pack.

F9 Electric Disco II: Beats will get you started on your next Disco production much faster and allow you to get into that flow state quicker, with a solid set of fully customisable drums and percussion. Once you start using the loops and the drum menus, you will quickly see that the options are endless.

Made with love for the funk and the disco in Brighton, UK
James Wiltshire - F9 Audio / Freemasons ( artists ) 


System Requirements

Ableton 9.5 Onwards ( Including Live 10 & 11)
Logic Pro X 10.2.4 onwards ( including all M1/ Apple silicon Logic systems )
Cubase 7 onwards ( Including LE editions )
Studio One 4.6 onwards ( Including 5 )
WAV format,  carefully marked for all other DAWs
Requirements for additional content included with every format: 
Kontakt 5.8.1 onwards ( not Kontakt Player ) 
MPC V2.10 Onwards ( including hardware running firmware 2.10+) 
The Kontakt portion for this release requires a full copy of Kontakt and will not work correctly with the free Kontakt Player.
The MPC Expansion will work on MPC V2.10 onwards including all hardware capable of running V2.10 and MPC Beats.
NB: When the stems are unpacked, the library will take up over 9Gb so please ensure you have at least 18Gb free on your drive for the download and de-compression. Please only use Windows Explorer and OSX Archive Utility to unpack the zips - other apps may not work correctly.

To see the license agreement for this release, please click HERE
  ---------
Compatibility List:
Compatible with Logic Pro X 10.2.4. Onwards ( including M1 and OSX Monterey / Ventura )
Compatible with Ableton 9.5 Onwards ( Standard or Suite )
Compatible with Ableton 11 Onwards ( Standard or Suite )
Compatible with Kontakt 5.8.1 Onwards*
Compatible with Presonus Studio One onwards
Compatible with Cubase 9.5 Onwards
Part of this library is compatible with Halion Sonic SE3 and Halion Sonic 7

Part of this library is compatible with MPC one, MPC-X, MPC Key 61, MPC Studio, MPC Touch / MPC Touch II, Akai Force, MPC beats and MPC Software V2.11 onwards
* Requires a fully paid Kontakt install, not the Kontakt Player editions.
 ---------
Legal information :   
Logic Pro, Smart controls, Apple loops and EXS24 are trademarks of Apple Inc. F9 Is not affliliated or endorsed by Apple in any way, and its trademarks are only used to show compatibility with Apple's Logic Pro Software.

Ableton, Live Pack, Live Racks are trademarks of Ableton AG. 

Protools s a trademark or registered trademark of

Avid Technology, Inc.

or its subsidiaries in the United States and/or other countries

All additional product and company names including trademarks™ or registered® trademarks are included for descriptive or illustrative purposes only. F9 Audio does not have or claim to have any affiliation or endorsement with these external brands. Any goodwill attached to those brands rests with the brand owner.

 



All specifications are subject to change without notice.