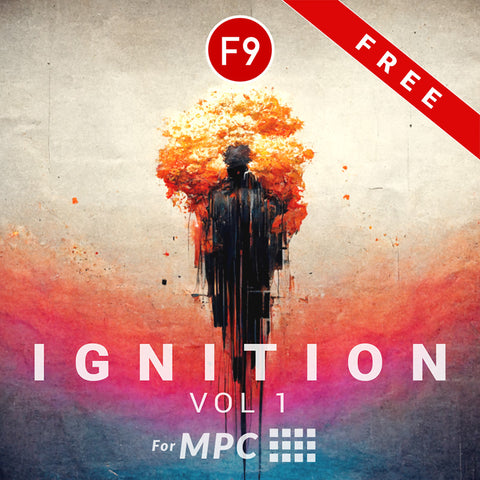 A Free 1Gb MPC Expansion

F9 Ignition Vol1 contains 7 Free Kits, 7 Sound menus and  30 Multisampled MPC Keygroup instruments to introduce you to our world of boutique MPC and Force expansion packs. 
All contents are royalty-free and are taken from the following F9 releases :
∙5Gb of 21st Century atmospheric instruments, kits and inspiration for your MPC.
∙100+ round-robin keyboard, piano, pluck & bass keygroup patches collide with 18 MPC kits that span across genres. Come and hear the demos to see what this amazing pack is capable of.
∙Part II of the F9 instruments series for MPC.
----
∙4Gb+ of Future-Retro Funk instruments, Kits and Hits for your MPC
∙133 genre-perfect keygroup patches set this expansion apart from anything else on the market. All multi-sampled from original 80s hardware. 
∙16 explosive MPC kits and 26 Sound menus will give your productions the sought-after vintage flavour but with 21st-century sonics. 
----
∙We bottled the sound of 90s Clubbing and formatted it perfectly for your MPC.
∙100+ Classic House Basses, Pianos, Organs, stabs and synths keygroup patches join the 17 MPC kits that Cover all the main food groups of classic house with a modern eye on the sonics.
∙Contains the greatest hits of the F9 Origins Range
-----
Compatibility List:
Compatible with MPC Live I and II *

Compatible with MPC ONE *

Compatible with MPC X *

Compatible with MPC Key 61 *

Compatible with MPC Studio *

Compatible with AKAI Force **

Compatible with MPC Standalone *

Compatible with MPC Software V2.11
* Requires firmware V2.11 onwards
** Requires Akai Force OS V3.2 onwards
An additional folder is included for standalone MPC and Akai Force users.
------------
AKAI, MPC, Akai Force & Qlink are trademarks of Inmusic Brands Inc. 

F9 Audio ltd is in no way affiliated or endorsed Inmusic Brands Inc. The trademarks of these respective companies are used solely to identify this product's compatibility with the music creation software. 
Any / all references to other hardware devices or sub-brands on this page including instruments and registered trademarks are provided for descriptive purposes only. For example, references to instrument brands and associated trademarks are provided to describe the sound of the instrument and/or the instrument used in the creation of a sound or patch. F9 Audio Ltd does not have (nor do they claim) any association with or endorsement by these brands. Any goodwill attached to those brands rests with the brand owner.
------------
All specifications are subject to change without notice.
To see this product's license agreement, click
HERE