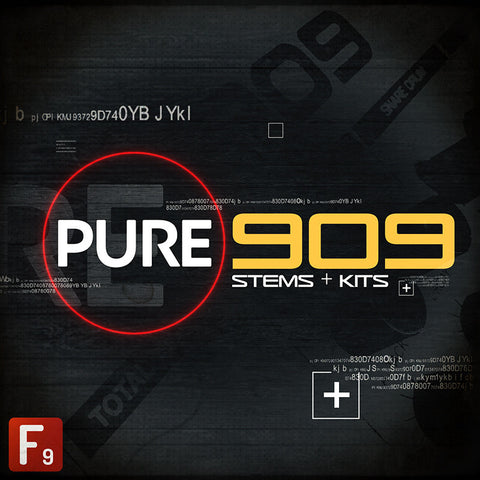 Classic Sounds for the 21st Century
Awarded 9/10 in Music Tech Magazine (Feb 17)
"…Everything is expertly written and features plenty of variations, short fills and longer build up for you to dissect and the sound is loud but punchy and dynamic.."  9/10 Music tech magazine 
F9 Presents PURE 909 - An exceptional collection of fully mixed and professionally produced drum stems + kits using an original 909 as it's sound source. All sounds have been meticulously recorded and processed using the world's finest hardware devices to present to you 14 sets of 909 Beats club-ready for 21st century productions.
Digital Heart - Analog Soul. The 909 is at its core a series of analogue synths and everything produced by the unit except the cymbals comes from analog circuitry, oscillators and noise generators . This means that every clap, kick, snare, rim and tom sound emanating from a 909 will be slightly unique. Digital reproduction was in it's infancy when the 909 was created so even the hats, Cymbals and ride will have tiny imperfections caused by the low bit digital playback circuitry  We have worked tirelessly to make sure this is replicated in the stems. Static one shots will never contain the inherent soul that club culture's most revered rhythm box is famous for and it is this attention to detail that make this collection stand out. 
Hybrid Kicks. Whilst nearly ever other sound from the 909 stands up in a modern production we've always felt the 909 kick lacks the initial transient information so vital in contemporary club productions. During the creation of PURE 909 we have Hand-welded ( kick by kick ) new transients onto the warm analog 909 Kick recordings bringing out the very best of the sustain portion . Those in the know always talk about the Moogerfooger

 

* 101 filter pedal being the 909 kick's best friend and nearly all of the new kick stems have then been passed through the driven circuitry of this legendary device - Adding weight and power to the audio. The results are stunning and sometimes surprising!
You've heard the audio demos above, now grab the Free taster pack - Listen to these against your existing 909 library - We are confident you'll agree these are some of the finest 909 sounds currently available
PLEASE NOTE to download and de-compress this release you will need at least 10Gb of free disc space 
"I could have written this review before sampling Pure 909 as I know F9 are obsessed with quality and detail. Not much that I can say other than 10/10 " - ATFC on Loopmasters
Analog processing - Months of experimentation went into the recording and processing of this pack to bring out the very best in the 909's palette. Hardware devices used in this packs creation include: Neve 1081+ API 512C Pre Amps, Thermionic Culture Vulture ( Plus 15 ) and Rooster, Artec Analog delay, Lexicon 300 reverb , Neumann W491 EQ, Stereo Moogerfooger pedals, Moog MF drive pedals, Eventide Space Reverb Pedal, Sherman/ Rodec Re-styler Stereo Filter, Kush UBK, GML 8900, Valley People 610 compressor, Chandler Lil devil Inductor EQ , SSL XR727 Stereo EQ and XR728 Stereo Dynamics, Chandler Zener Limiter and Manley Massive Passive EQ
 TR-909 is a registered trademark of the Roland Corp, F9 Audio is in no way affiliated with the Roland Corp. The trademarks are used solely to identify the products of those manufacturers.
* Moogerfooger is a registered trademark of Moog Music, F9 Audio is in no way affiliated with Moog Music. The trademarks are used solely to identify the products of those manufacturers.
Please Note : This is a Drum stem and Drum kit product - The music in teh main audio demo is there for illustrative purposes - Although if there is anything you want , do let us know 
Please note - the Kontakt part of this release requires a full version of Kontakt - It will not work correctly with the Free Kontakt Player 
Sampler Compatibility :
Ableton Live 8+9 (Suite and standard)

Logic 9.1.8 and all version of Logic Pro X

Studio One V 3.2.4+

Reason 7+

Kontakt 5.0.1+ ( full version required )

Battery 3 + 4
Full Specs:
2.6Gb Zipped
5.4Gb Decompressed
Original Vintage 909 Used throughout
150 24bit stems
12 Main Stem sets
2 Bonus Stem Sets
278 Drum sounds
22 EXS24 Kits & Patches
22 Presence XT Kits & Patches
22 Battery 3+4 Patches
22 NNXT Kits & Patches
22 Kontakt instruments
Full Ableton Support
30+ Ableton 8+9

 

Racks
23 Hybrid 909 Kicks
12 Stem Audio demos
Full PDF manual
Legal information :   
Logic Pro, Smart controls, Apple loops and EXS24 are trademarks of Apple Inc. F9 Is not affliliated or endorsed by Apple in any way, and its trademarks are only used to show compatibility with Apple's Logic Pro Software.

Ableton, Live Pack, Live Racks are trademarks of Ableton AG. 

Steinberg, Cubase , Haiion Halion SE, vstsound and VST are Trademarks of Steinberg Media Technologies GmbH

Studio One, Presence XT and Audioloop are Trademarks of PreSonus Audio Electronics, Inc.. F9 Is not endorsed or affiliated with Presonus, Its trademark is used solely to identify compatibility with Presonus's Studio One software and its functionality.

All additional product and company names including trademarks™ or registered® trademarks are included for descriptive or illustrative purposes only. F9 Audio does not have or claim to have any affiliation or endorsement with these external brands. Any goodwill attached to those brands rests with the brand owner.

 



All specifications are subject to change without notice.      
To see this product's license agreement, click HERE